I am so delighted to have my friend Tasha from Designer Trapped in a Lawyer's Body here today to talk a little bit about blogging strategy-- and more specifically, monetizing your blog! Tasha is my go-to source any time I have questions about using affiliate sales as an income stream for my site, and I know you will find the information she has to share incredibly helpful as well. I'll let her take it from here!
---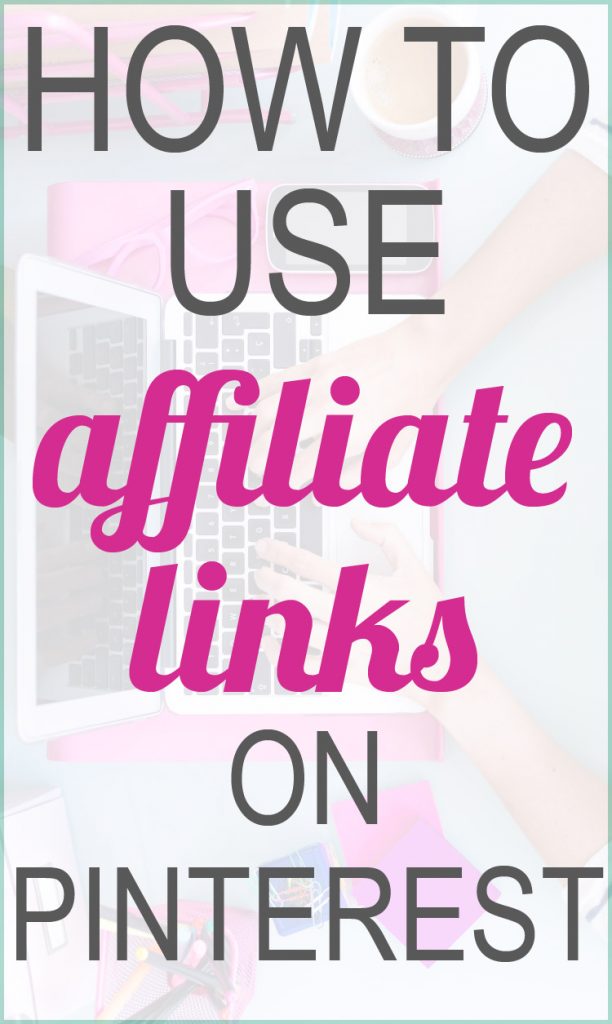 Hello friends! I am Tasha and I blog over at Designer Trapped in a Lawyer's Body. I am blogger-friend of Abby's and a huge admirer of her entrepreneurial skills, so I am beyond honored to best guest posting here today.
Inspiring other bloggers to maximize their blogging income through affiliate marketing is a huge passion of mine so I'm super excited to share my thoughts on how to use affiliate links on Pinterest to grow your affiliate earnings. If you are a blogger looking to get started with affiliate marketing or improve your affiliate marketing earnings, be sure to click the image below to get my free mini-eBook on affiliate marketing for bloggers.
Now, let's talk about how you can use affiliate links on Pinterest to boost your affiliate earnings!
Wait, affiliate links are allowed on Pinterest?
Yes! You may be confused because affiliate links were effectively banned from Pinterest back in 2015. But on May 12, 2016 Pinterest announced that affiliate links are once again allowed on Pinterest. Pinterest said in part, "In the past, we removed affiliate links from Pinterest because spammers were abusing them. Now that our spam detection system is so much stronger, we're ready to allow affiliate links again. To make way for these changes, we're making minor updates to our acceptable use policy. We'll start rolling out all affiliate networks today and over the coming weeks."
True to its word, Pinterest has indeed opened the gates to affiliate links once again.
What does that mean for bloggers?
In the past, bloggers could only promote affiliate products via Pinterest indirectly by linking to a blog post that contained affiliate links. But now, if you are a blogger who has already joined affiliate programs for your favorite retailers in your niche, you can now share your affiliate links directly on Pinterest. That means that instead of creating a post to drive readers to, you can now pin and image of a product you love with your affiliate link on Pinterest. You can see an example of one of my "affiliate pins" below.
Now, read on to learn about my tips how you can share your affiliate links on Pinterest.
Tips for Affiliate Marketing on Pinterest
First, let me emphasize that I feel strongly that bloggers should not go overboard when sharing affiliate links on Pinterest. Think about it… When you scroll through your Pinterest feed, do you want to only see products for sale? Probably not. So exercise your judgment and make sure that affiliate links are a small percentage of the content that you share on Pinterest.
Also, do not forget that you must disclose the fact that you are sharing an affiliate link just as you would on any other social media post! You can see how I disclose affiliate links on Pinterest later in this post.
Alright, now let's explore how to share affiliate links on Pinterest in an effective way.
Pin Relevant Affiliate Products to Your Existing Personal Boards
First, you should feel free to pin relevant affiliate content to your EXISTING personal boards that are filled with mostly substantive content from other blogs. For example, I will pin a beautiful rug from Target to my personal board called "Rugs and Windows." That board contains mostly DIY tutorials from other bloggers, but certainly the people who follow it are interested in rugs and window treatments, so they will likely also be interested in rugs that are available for purchase.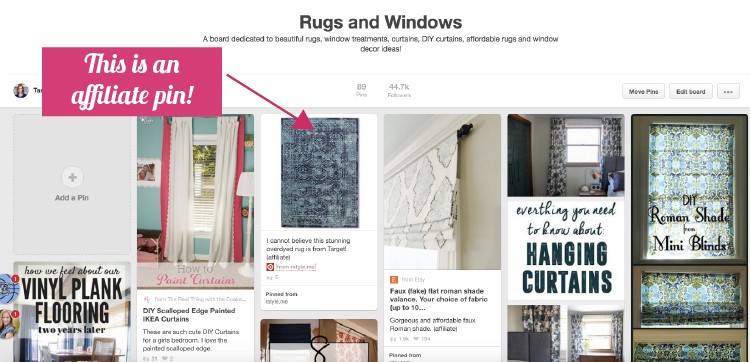 I pin an image of the rug directly from Target to my board. I write a short description about it and add "(affiliate)" at the end for disclosure purposes. Then, as soon as it is pinned, I view the pin, click "edit" and change the link url to my affiliate link. Easy peasy.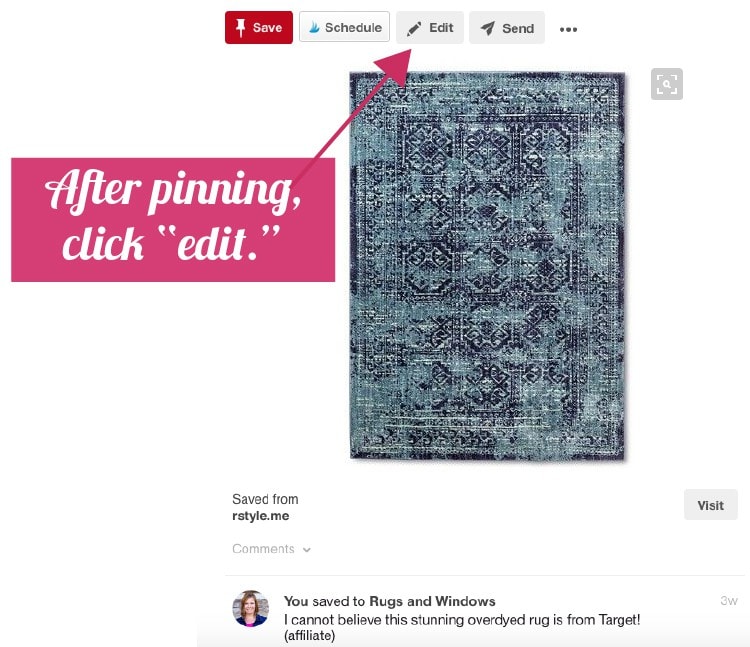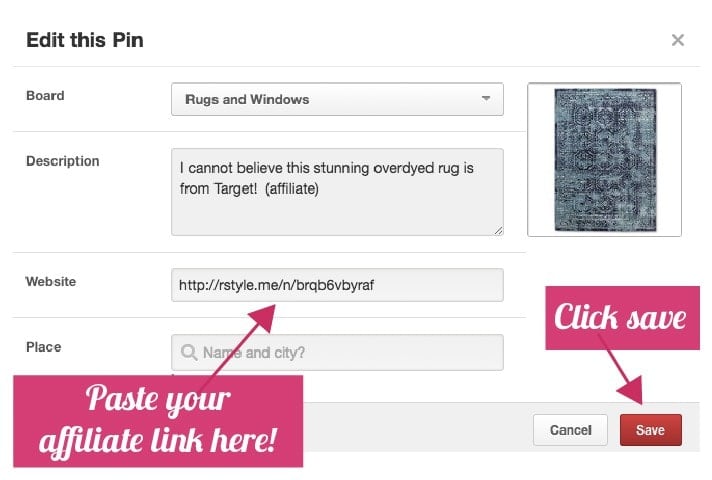 Create Boards Dedicated to Showcasing Affiliate Products Your Followers Will Love
Second, it's a good idea to create a few new personal boards that are used solely for the purpose of pinning products that are for sale (using your affiliate links of course). For example, I have created a personal board called "Gorgeous Throw Pillows and Bedding." The description for the board is "This board is full of gorgeous throw pillows, accent pillows, decorative pillows, duvet covers, sheets and bedding. Changing your throw pillows and bedding is such an easy way to refresh any room on a budget!" I pin beautiful products to it and edit the urls of the pin to my affiliate links, using the process described above.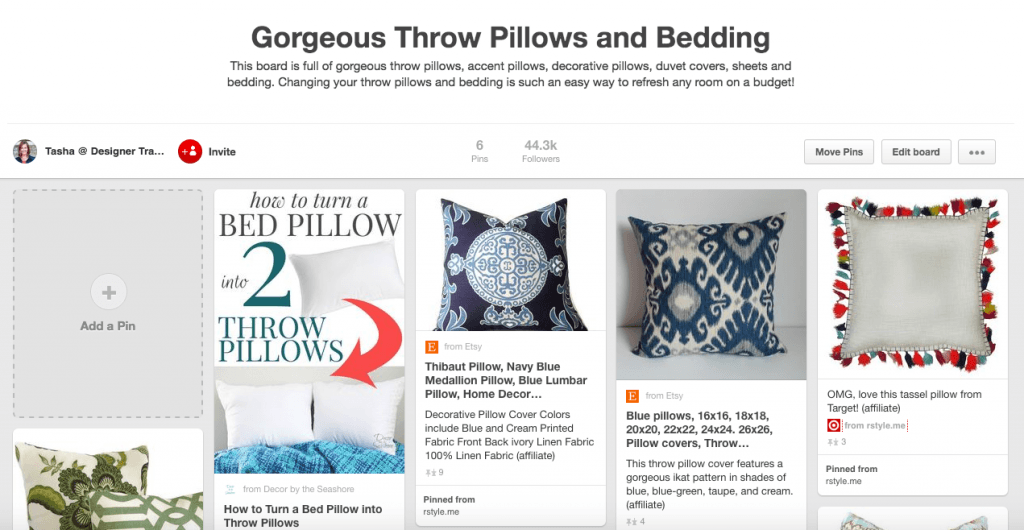 Make the Most Out of Any Shopping Guide Posts On Your Blog
Third, go through any shopping guide posts and/or room reveal posts that you may have on your blog. Of course you want to continue pinning whatever "pinnable" graphic you have created for the post, but I also recommend pinning images of each individual product recommended in your post and swapping out the blog post url with your affiliate link to that product.
For example, I have a post featuring 10 Affordable Headboards on my blog. Now, instead of just pinning the "pinnable graphic" you see below, I pin that PLUS individual images of each headboard featured within the post. That exponentially increases the chance that people will click on the pin and through to my blog post, which in turn increases my chance of making affiliate sales from that post. Plus, it also boosts traffic to that post, which translates to more ad revenue as well--it's a win-win!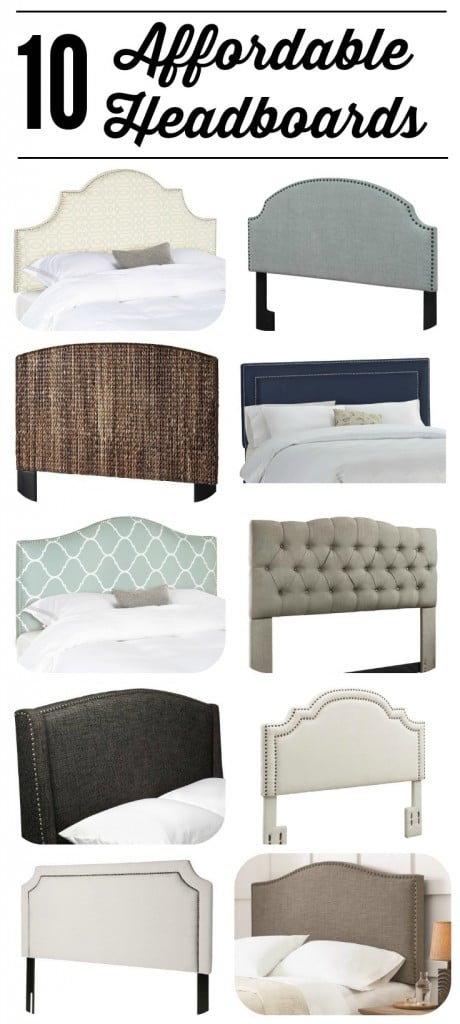 A Word of Caution About Sharing Affiliate Links on Group Boards
Generally speaking, I do not recommend pinning affiliate products to group boards that are owned by other pinners. Bear in mind, most group boards are created for the purpose of bloggers being able to share their substantive blog content. Let me elaborate.
If I were a member of a group board called "Beautiful Home Decor" that was created for bloggers to share their blog posts, I would feel free to pin an image from a post of mine called "10 Beautiful Couches that Won't Break the Bank." Of course, that blog post would contain affiliate links. But, I would never pin an image of a couch with my affiliate to a group board called "Beautiful Home Decor" that I am a member of, since that is not the purpose of the board.
There may be exceptions to this if you are a member of a very specific group board, such as "Best Blogging Resources." In that case, I would feel comfortable pinning Abby's Building a Framework book and changing the url to my affiliate link.
I hope this was helpful! Remember, if you are a blogger looking to get started with affiliate marketing or improve your affiliate marketing earnings, be sure to click the button below to get my free quick-start guide to affiliate marketing for bloggers!
---
I love when I learn new marketing strategies, and I can't wait to try out Tasha's tips and tricks! There is so much potential for blog growth with Pinterest, and this strategy is a perfect example of that. Make sure you snag Tasha's free guide for even more incredibly helpful info!
Have a wonderful week!