Hi, friends! Today I am so excited to be sharing my spring entry as part of the Styled for Spring Home Tour, hosted by Randi from Randi Garrett Design and Jennifer from Decor Gold Designs! This is my first official spring post this year, and I am thrilled to be saying good bye to winter and hello to warmer temperatures! 🙂
A Simple Spring Entry
This post contains affiliate links. For more information, see my disclosures here.
If you're popping over from my friend Erin's house at Sunny Side Up, welcome!! Isn't her home so gorgeous? And she is truly one of the sweetest people you'll ever meet, too– love her!
I thought this tour would be the perfect excuse to share some updates we've made to our entry so far! To be honest, our entryway has kind of perplexed me since we moved in last fall. Since we have a mudroom that we enter when we come in through the garage, the actual entry space near the front door is pretty small, and it is also an unconventional shape.
It took me a while to find a piece that was the right dimensions for this spot, so when we first moved in I used a dresser that used to be in our boys' room.
It worked fine, but I really wanted something that wasn't quite as deep and that looked more like an entry piece rather than something I grabbed from the bedroom and stuck in the entry. 🙂
After searching for a few months (and actually buying a piece and returning it because it didn't look right!) I finally stumbled upon this little cutie at Joss and Main/Wayfair, and I knew that it would be perfect.
I always seem to crave color in the spring (probably because winters in Pittsburgh are so long and dreary!), so I was excited to add some colorful elements to this space to get it ready for the new season!
I found the round mirror in the Hobby Lobby clearance section, and I couldn't snatch it up fast enough! It sort of reminded me of this entry mirror…
…that I fell in love with during my visit to the HGTV dream home last year, but it was aqua– SO ME!
I knew I wanted to bring in some floral elements for spring, but since I have a black thumb, faux florals were going to have to do. 🙂 I also have found myself gravitating toward birds this spring, so a few of those snuck their way into the entry decor as well. The mini bird bath is the perfect spot to hold my keys so I don't lose them! (Not that I lose them often or anything… 😉 )
I've been starting up a little collection of aqua glass recently because I can't get enough of it, and these two pieces were the perfect additions to my stash!
I promise that this little watering can just hopped into my cart at Michael's. I had no choice. Aqua items just seem to do that with me. That's what I'm telling Donnie anyway. 🙂
And finally, I added one of my most favorite pillows to up the coziness factor. It was in our bedroom in our last house, but I think it was the perfect colorful addition to our entry here!
Shop the Post

For more spring decorating ideas, see these posts:
A Decked and Styled Spring Dining Room
And don't forget to hop around and see the other beautiful blogger homes on the tour! Carissa from CC and Mike is up next!
1 | French Country Cottage 2| Dimples and Tangles 3| Stone Gable
4| Randi Garrett Design 5| Craftberry Bush
6| Thistle Wood Farms 7| Zevy Joy 8| Decor Gold Designs 9| So Much Better With Age
10| Lindsay Hill Interiors 11| The Sunnyside Up Blog 12| CC & Mike 13| Just a Girl and Her Blog
Below are the participants in Week #2 – Bedroom, Dining and Living Room Spring Decor…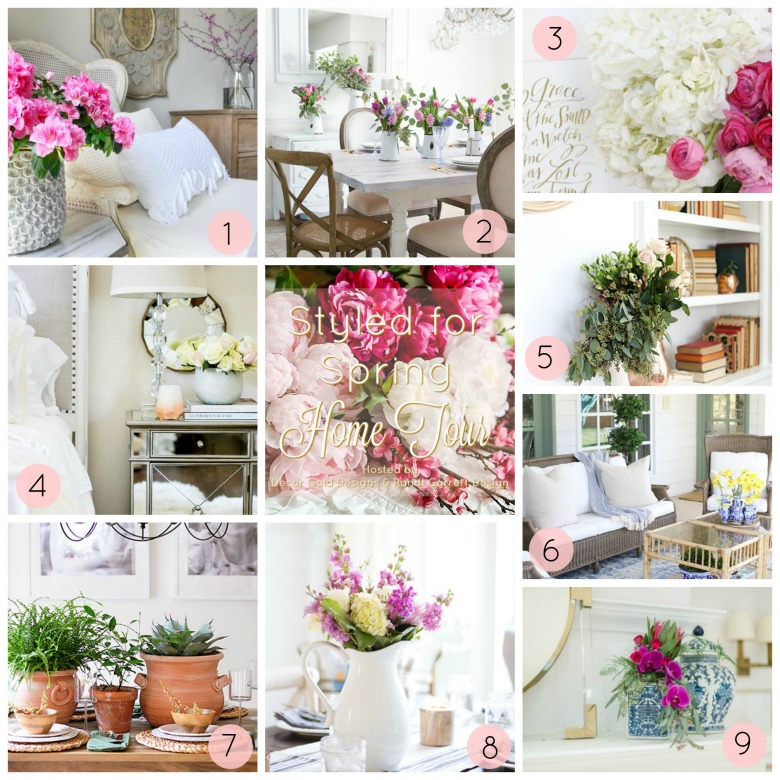 1| Decor Gold Designs 2| Shabby Fufu 3| Life on Virginia Street
4| Randi Garrett Design 5| Maison de Pax 6| Eleven Gables
7| Know How She Does It 8| A Thoughtful Place 9| The Leslie Style
Thanks so much for following along, sweet friends! Happy Spring!
This post contains affiliate links. For more information, see my disclosures here.