A Perfectly Organized Mudroom
Oh, I have such a treat for you today, friends! My sweet friend Erin from Sunny Side Up is here to share her absolutely amazing mudroom as part of the My Favorite Organized Space series, and I know you are going to LOVE it! I actually just got to spend some time with Erin at the Haven conference last weekend, and she is just as delightful in person as she is on her blog. And the girl can organize– you do not want to miss this! Here she is:
---
Hi everyone! I'm Erin and I blog about organizing, home decor, fashion and favorites at Sunny Side Up. I'm so happy to be sharing one of my favorite organized spaces with you today! I'm honored that Abby asked me to be part of such a fun series. I adore Abby and her blog! She is the real deal! Such a great friend and her blog is truly one of my favorites.
Like Abby, I'm an organizer at heart. I've organized a lot of spaces in our new home and to be honest I had a really hard time coming up with just one space to share with you all today! When my husband and I built our new home three years ago I had one key thing in mind – organization! Every room in our house has key elements I designed to make each space organized. I'm sharing our organized mudroom with you today because it functions so well for our family! Especially during the stage of life we are currently in with our 3 school age kids.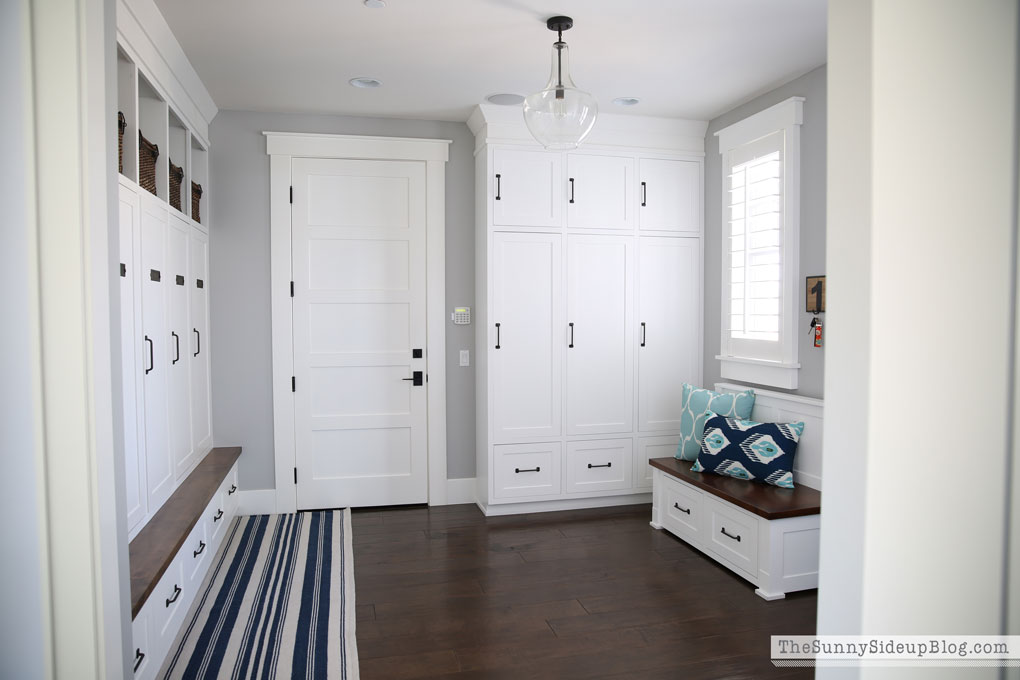 Our mudroom decor changes often (aside from organizing I love to decorate!) and this is what it currently looks like for summer. Last February it looked like this..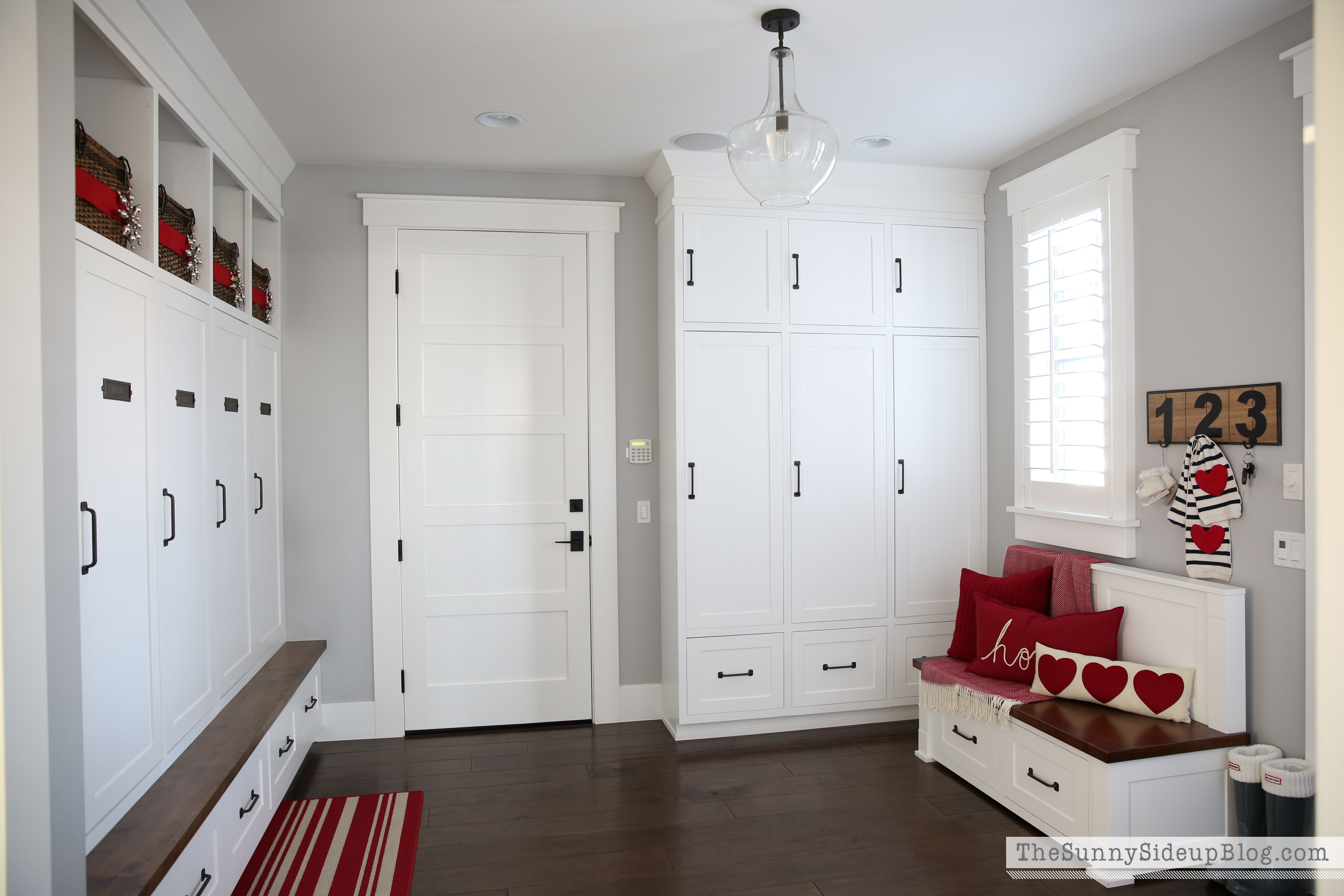 and that's when I took most of the pictures I'm sharing with you today. 🙂
How do you and your family use this space day to day?
Our mudroom is located right off of our garage. Every day my kids come into this room first and they know the drill! Shoes come off and get put away. Backpacks, jackets and other belongings get put away. Everything has a place in this beloved room.
What are some of the systems you've implemented to help the space stay organized?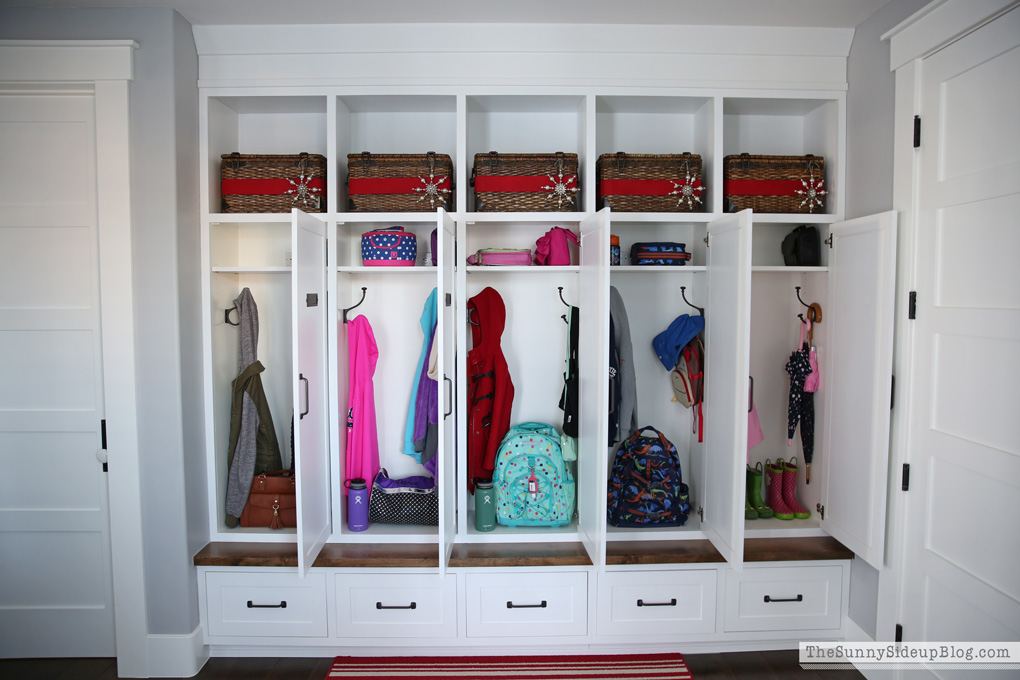 Each person in our family has his/her own locker. Inside each locker is hooks to hang backpacks and jackets, a shelf for lunch boxes and other miscellaneous items, and room at the bottom for bags and backpacks.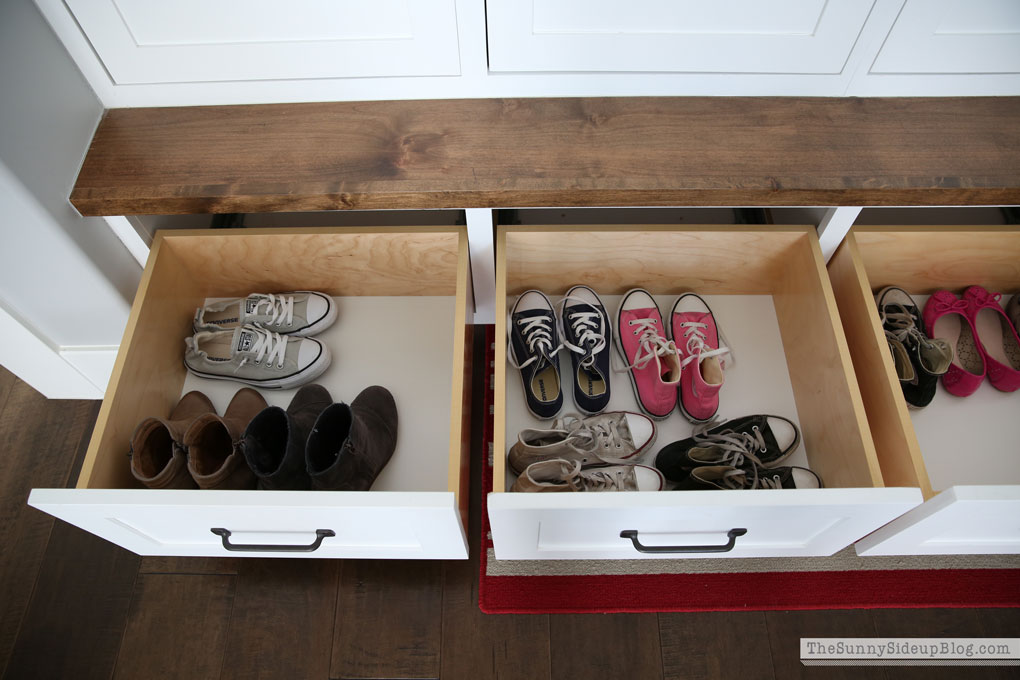 I also added drawers to hold our shoes! I keep most of my shoes in my closet, but I always have a few pairs I run around in most in my mudroom drawer. My kids keep all of their shoes in the mudroom.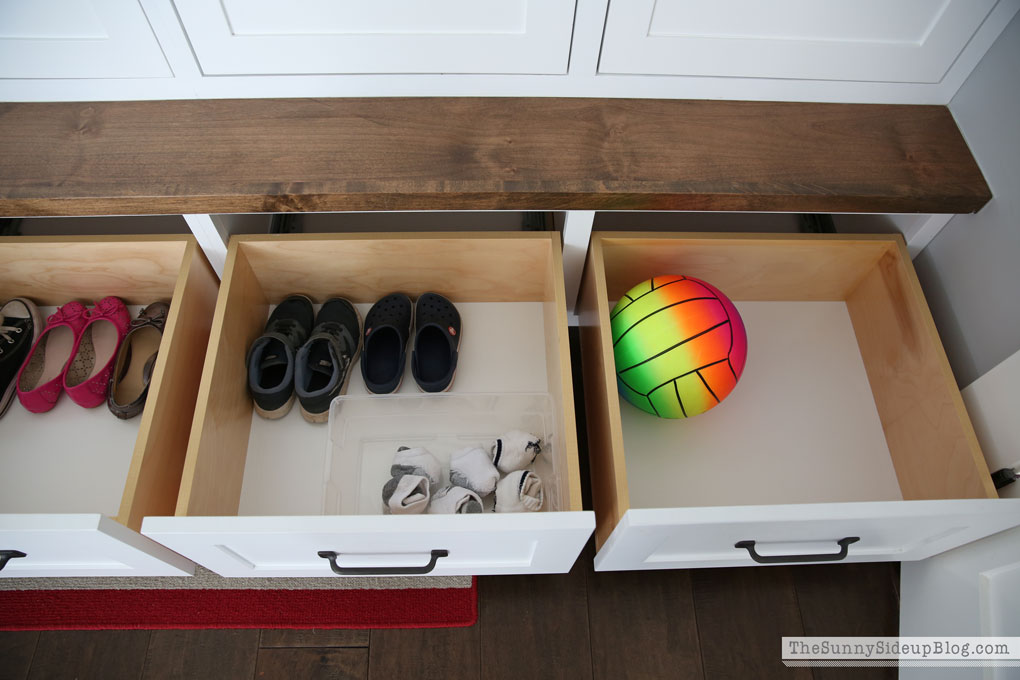 My husband doesn't use his locker and drawer, so his locker holds the kids' rain jackets and boots and the drawer holds my son's favorite ball. 🙂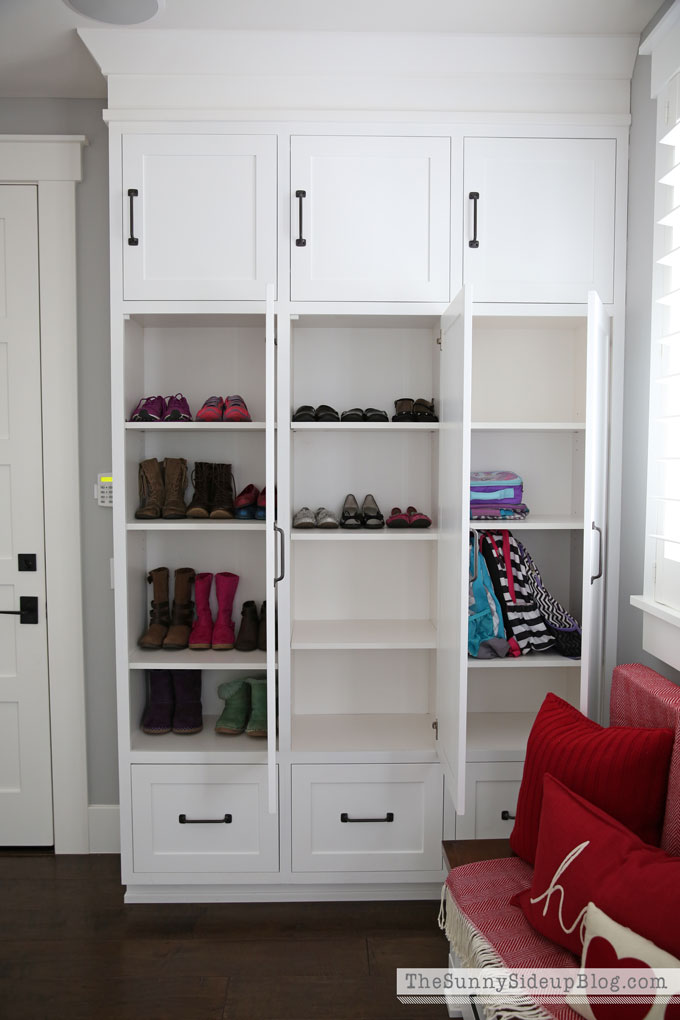 We also have extra cabinet space on the right side of the room that (for now) holds additional shoes and backpacks.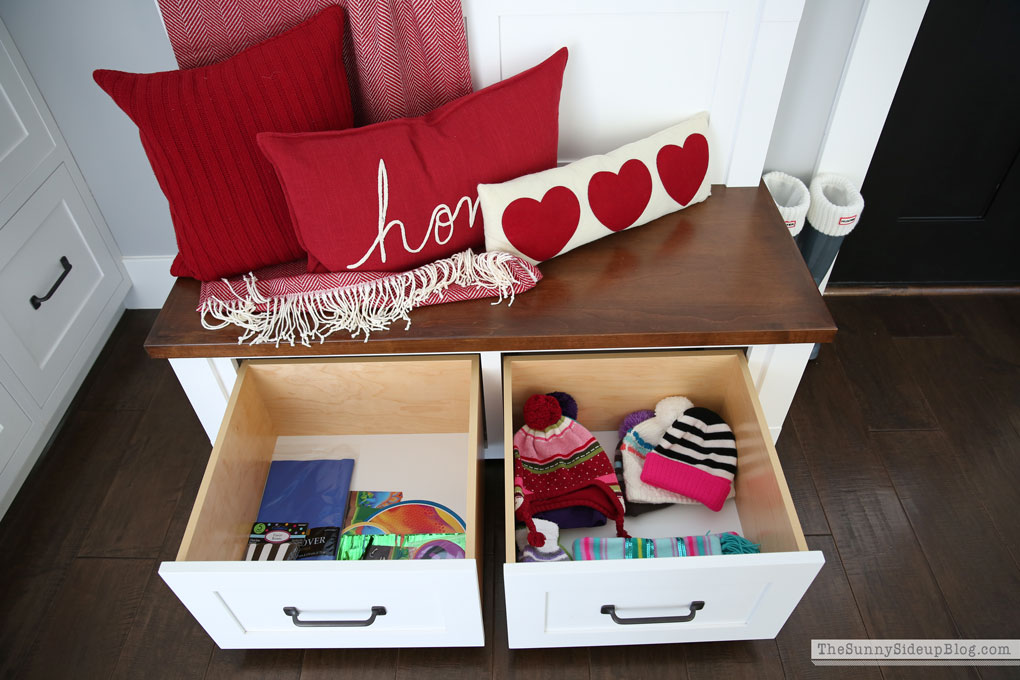 I designed a custom made bench for this space that holds party supplies in one drawer and winter hats/scarves in the other. We live in San Diego, so those hats on the right are only used a few times a year when we travel somewhere to get our snow fix. 😉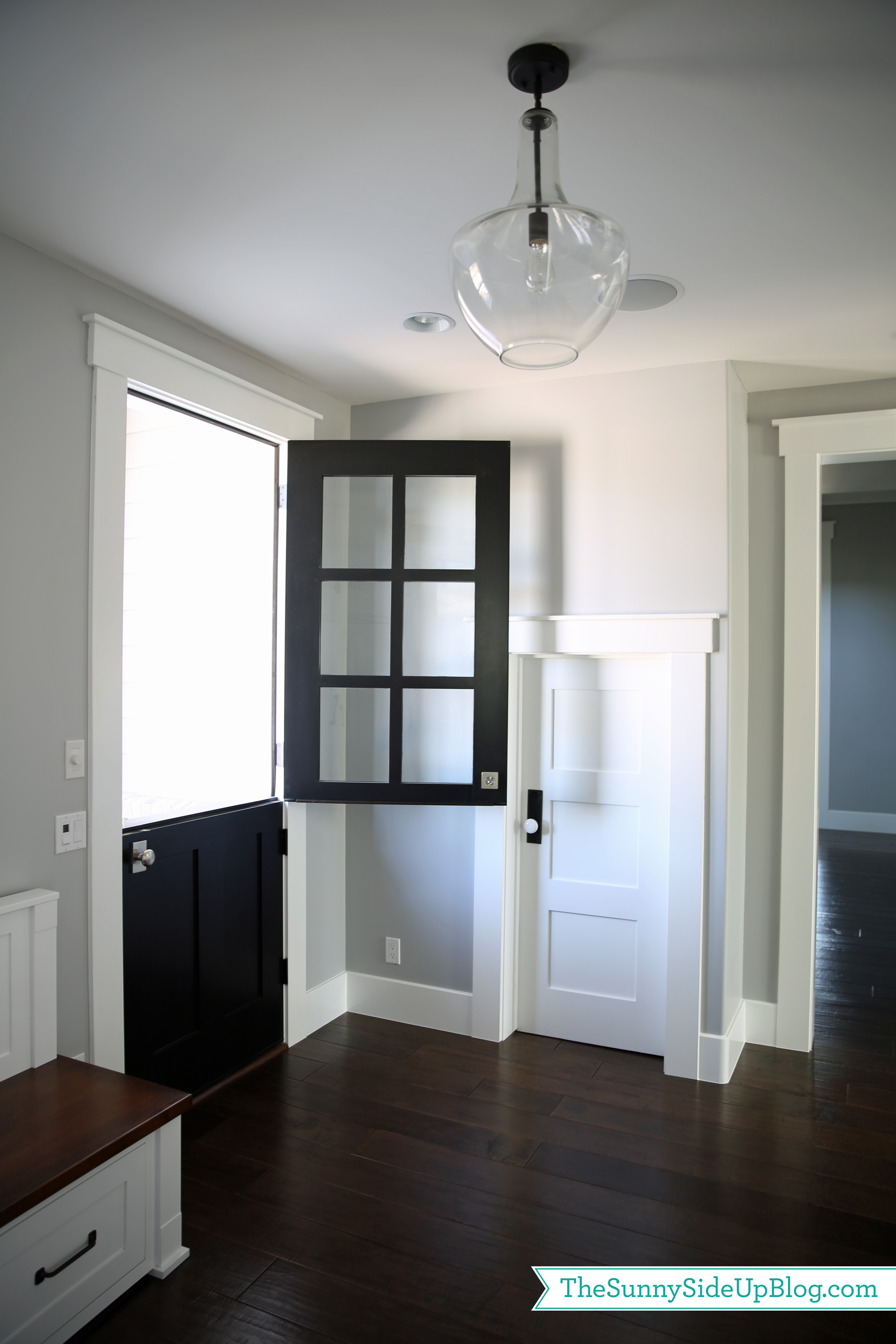 This room also has a small closet space where I store our luggage and a few other items.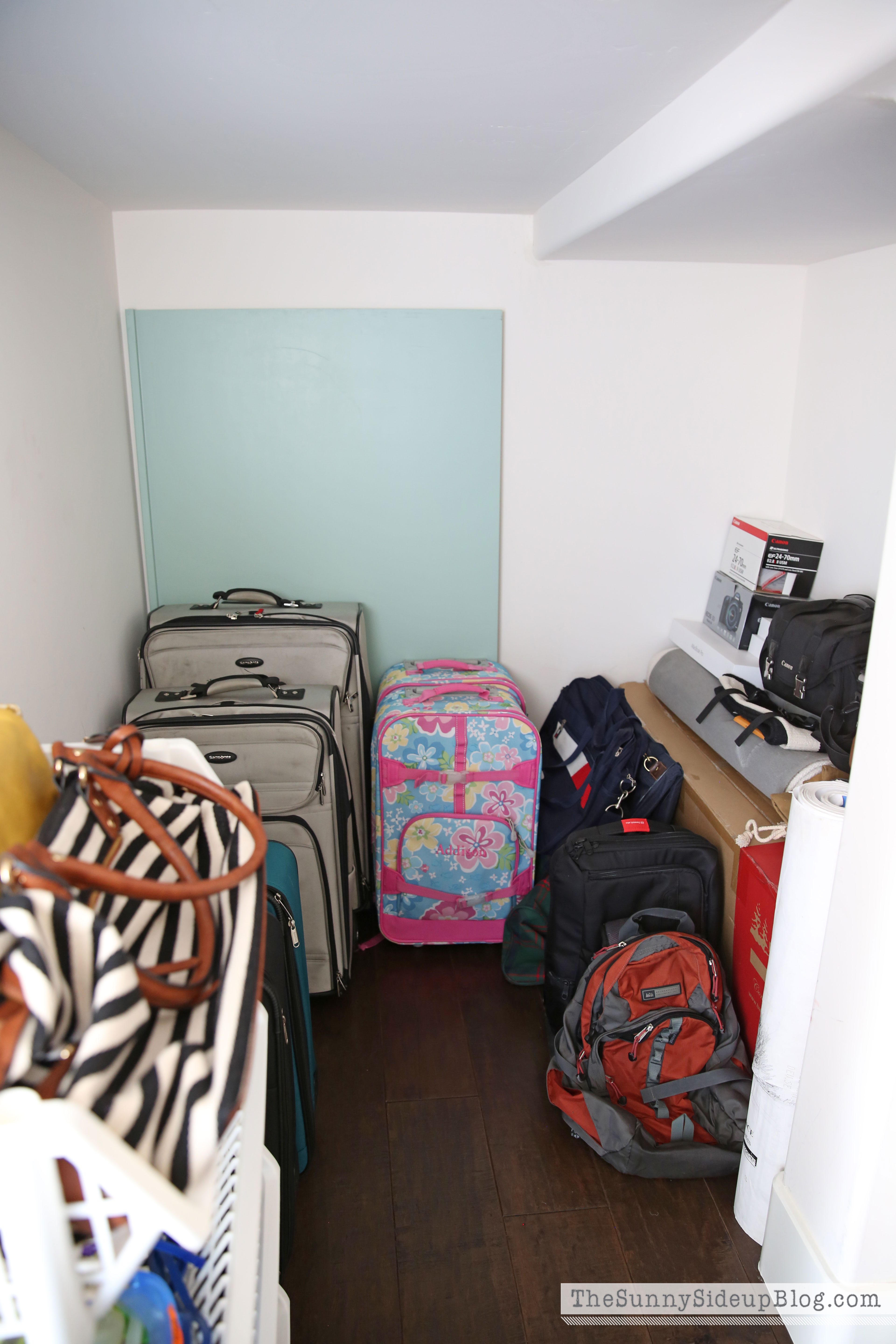 What did you do to make sure this space was both functional and beautiful at the same time?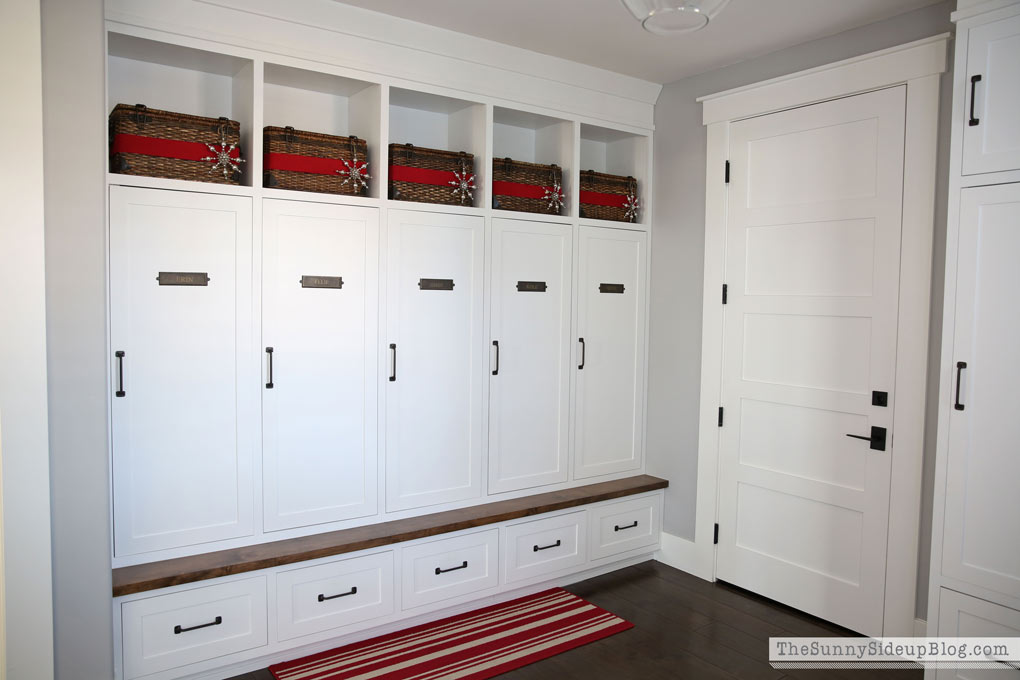 I have issues with clutter! I don't like to see messes, so I designed this mudroom to always look clean… even when it's not! Cupboards stay closed on all of the lockers and drawers stay shut so regardless of what my kids bring home, this room always appears neat and clean. I also added baskets above the lockers for additional storage and to add some personality to the room.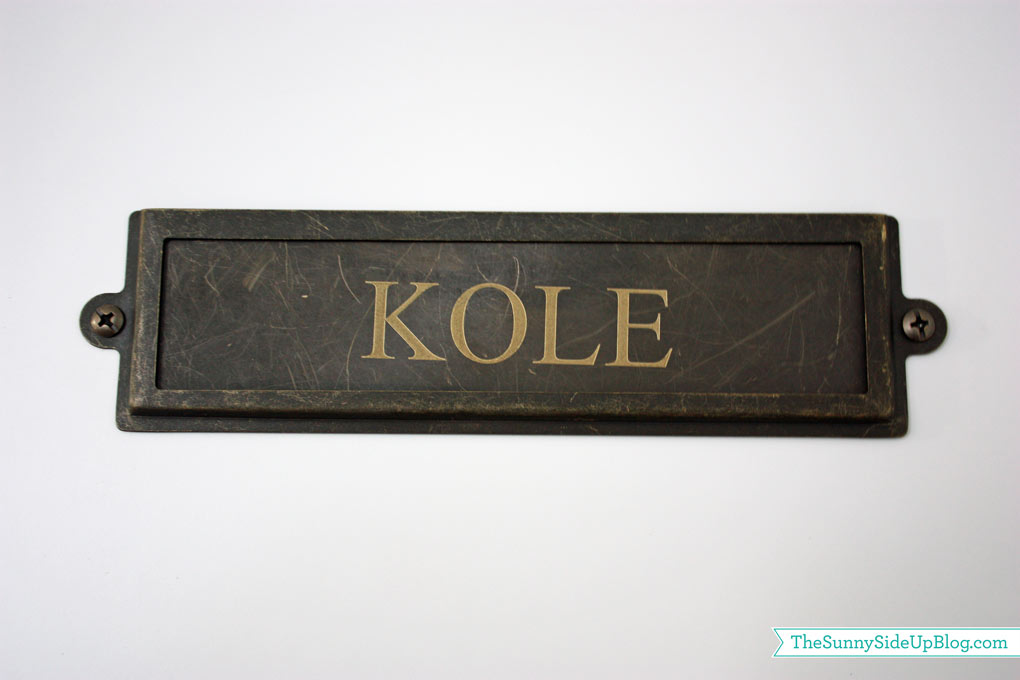 Each locker has a plate with a name on it so everyone knows which locker is their own. A fun way to personalize the space.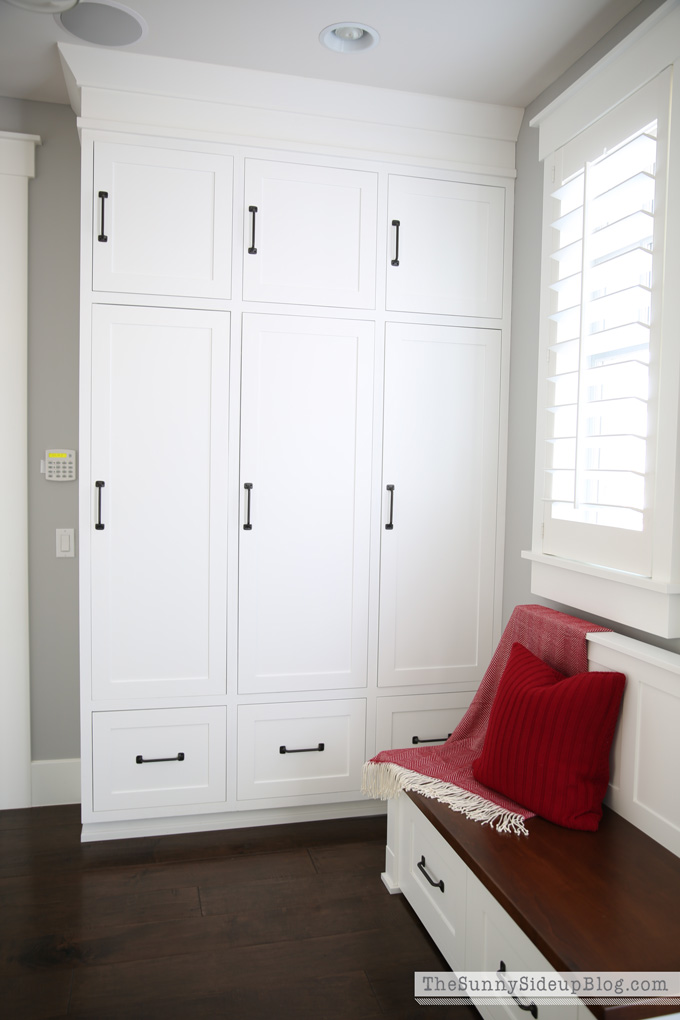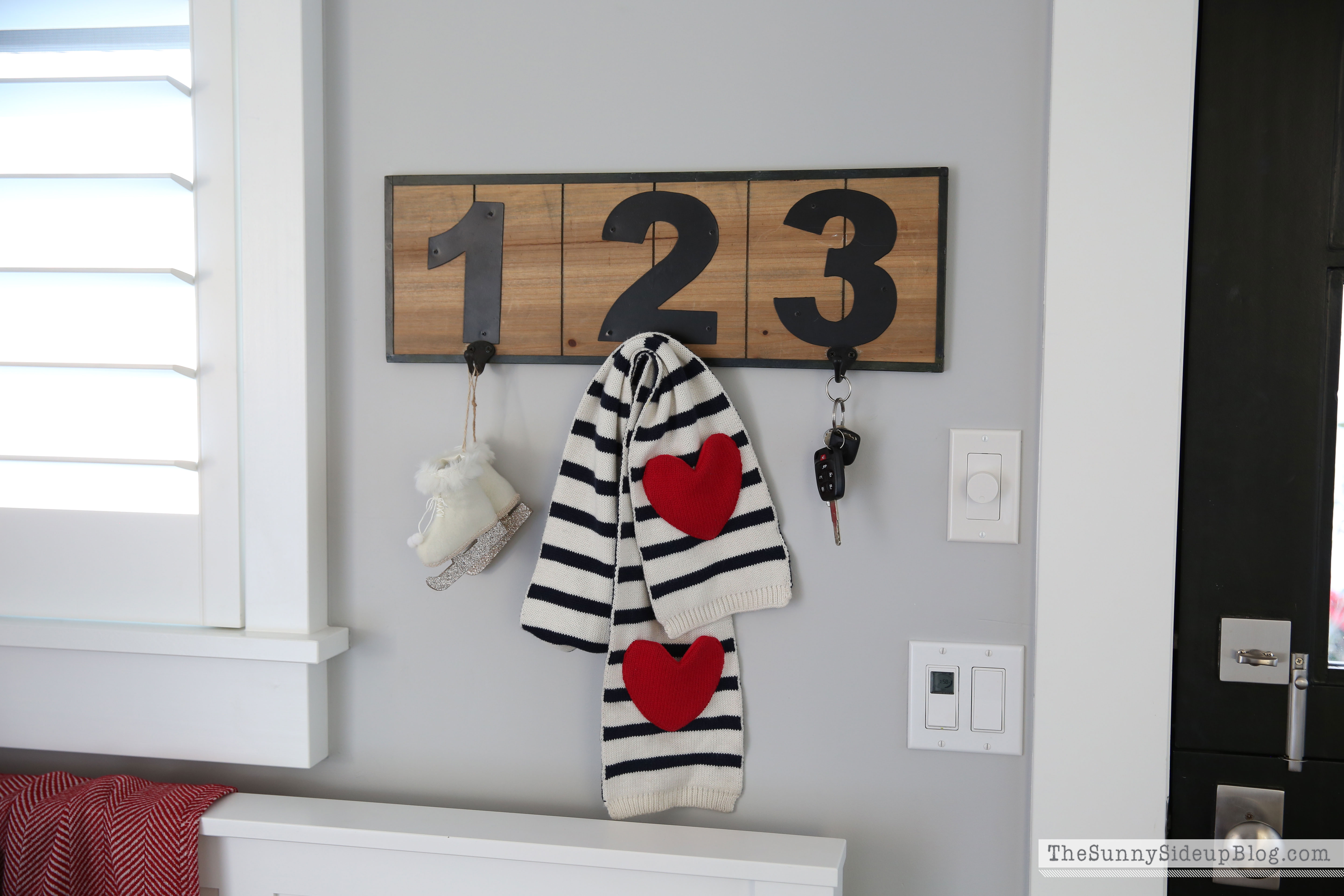 I also made a stylish place to hold our keys.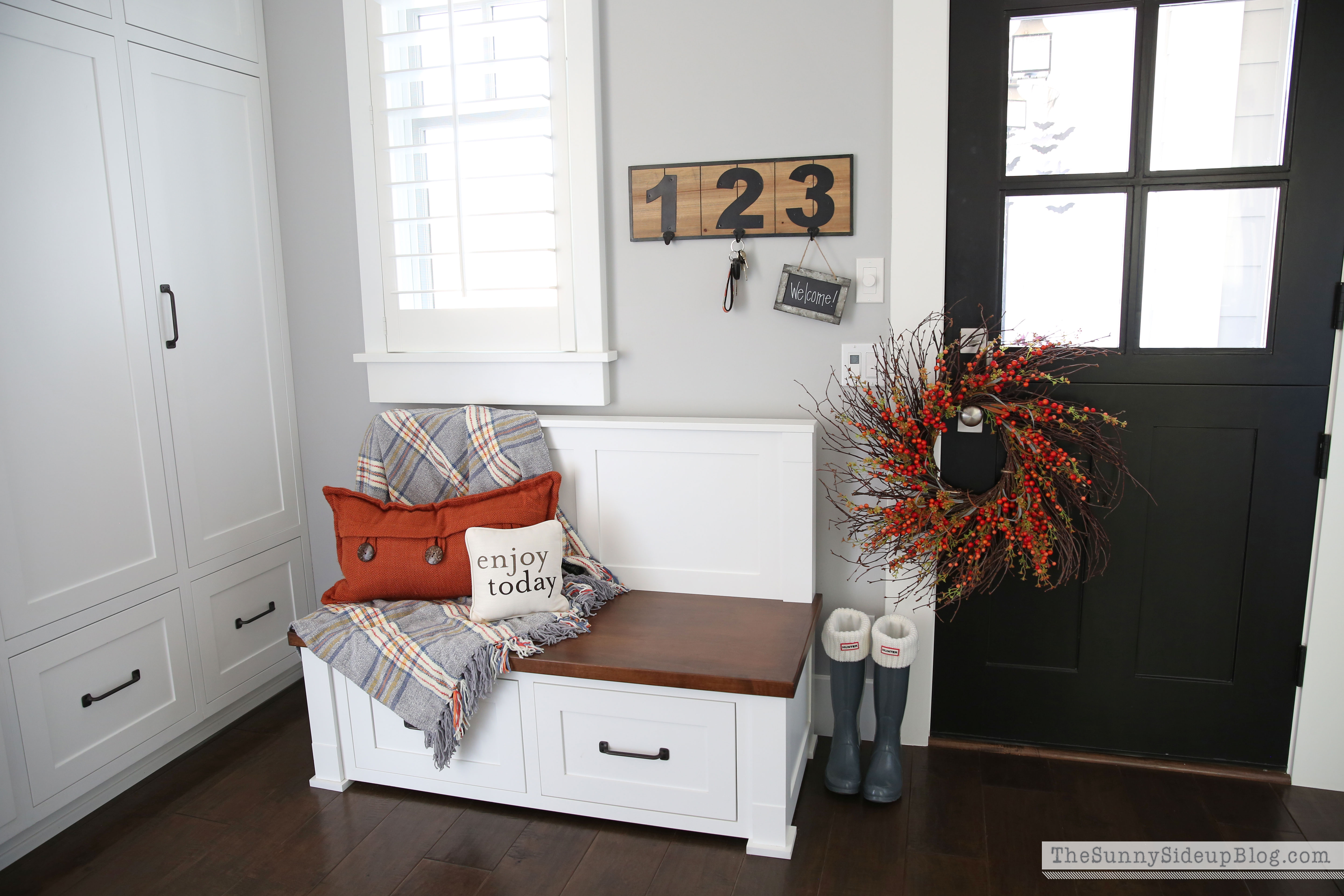 My bench last Fall. Like I said, decor tends to rotate quite a bit in my house. 🙂
Do you have any funny stories about this space?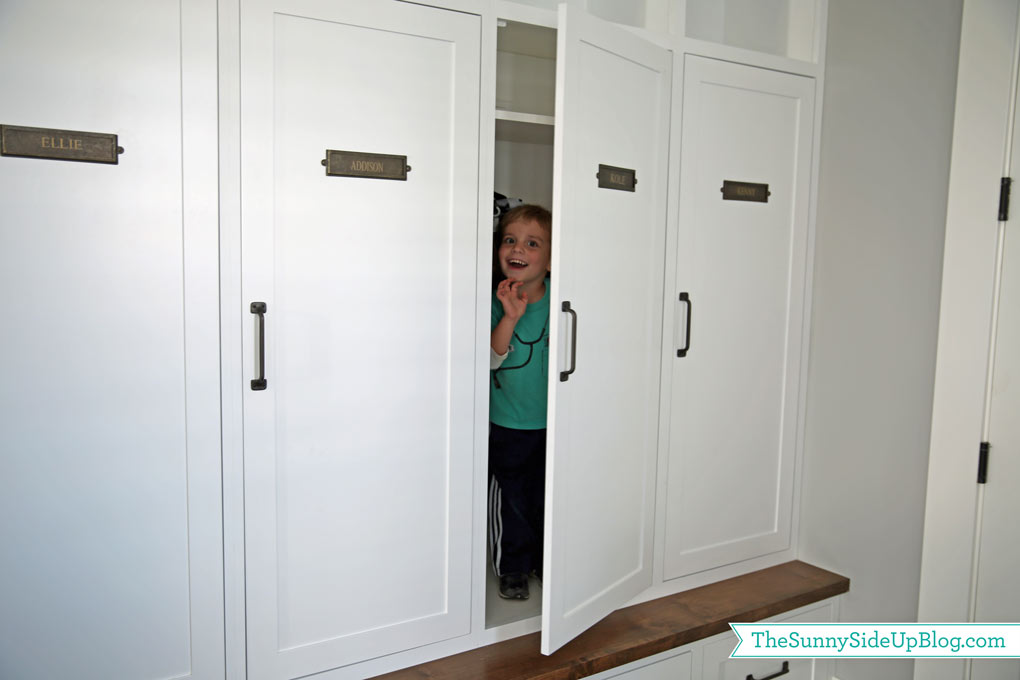 My kids love to play hide and seek and this room is my little boy's favorite place to hide. You can see why! We have him figured out by now, but that doesn't stop him from heading to his mudroom locker every time his sisters start counting to 10. 😉
What is it about this organized space that makes it your favorite?
All moms know what a mess kids' shoes and school supplies make on a daily basis. I dreamed about this space for so many years! There was no room in our previous house for my kids' backpacks and shoes (
you can see my old make shift mudroom here
). This room is one of my favorites because every day when we get home and my kids put away all of their stuff, I feel like I can breathe! Their things aren't all over the house messing up other rooms.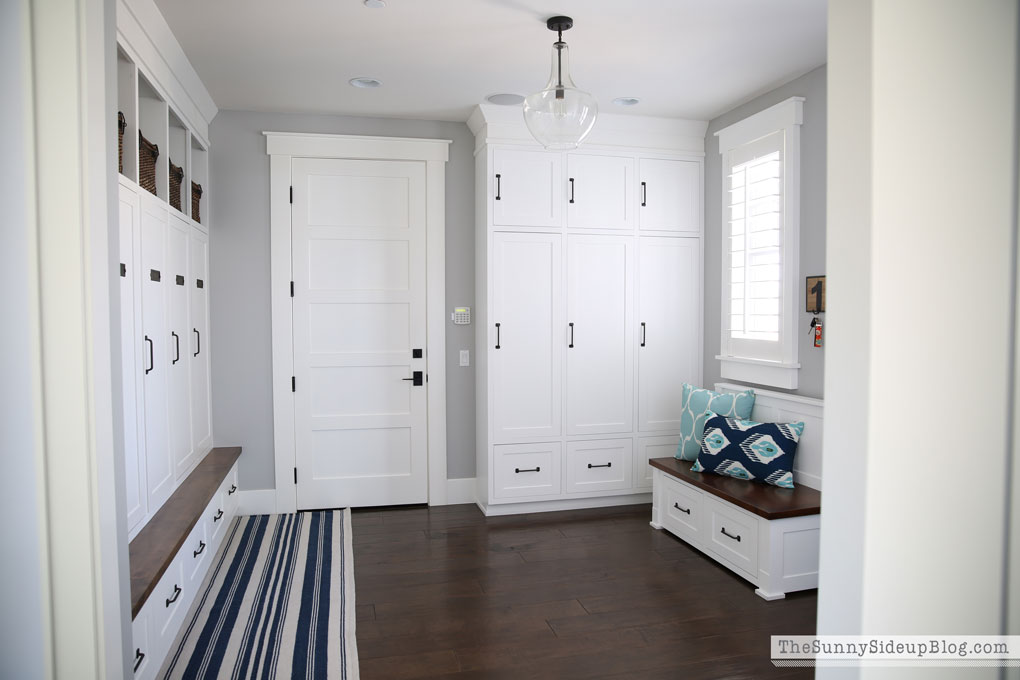 Designing and organizing this room was truly a dream!
Thanks for letting me visit today Abby! xo
---
Incredible, right?! We have a small mudroom space in our new house, and I know exactly where I'll be looking for inspiration when it comes time to decorate and organize it! Erin's space (and the rest of her house!) are truly a dream. Thanks so much for sharing it with us, Erin!
If you'd like to follow along with the rest of the My Favorite Organized Space series, you can do so in the following posts:
A Beautiful, Organized Kitchen by Abby at Just a Girl and Her Blog
A Neat and Tidy Entry Closet by Ginny at Organizing Homelife
A Fun, Organized Garage by Becky at Organizing Made Fun
A Beautifully Organized Living Room by Lauren at Bless'er House
An Inspiring and Organized Home Office by Amy at 11 Magnolia Lane
An Incredibly Organized Garage by Samantha at Simply Organized
A Playful and Organized Boy Room by Angela at Blue i Style
A Perfectly Organized Mudroom by Erin at Sunny Side Up (You're here!)
A Creative and Organized Home Office + Craft Room by Megan at The Homes I Have Made
Happy organizing!