A Neat and Tidy Entry Closet
This summer I am delighted to be hosting a My Favorite Organized Space series here on the blog, and I kicked things off last week with my own organized space– our kitchen! Today my dear friend Ginny from Organizing Homelife is here to share her neat and tidy entry closet + drop zone, and I am so in awe of how much storage and functionality she was able to pack into a not-so-big space. It's incredible! I'll let her tell you more about it…
---
Hi there! I'm Ginny from Organizing Homelife and I am so happy to be visiting with you on Abby's blog! I met Abby at a blogging conference a few years ago, and we connected right away. In case you're wondering, she is just as sweet as you imagine. But you probably already knew that. So, thanks, Abby, for inviting me!
Today, I'm sharing what was once a disorganized eyesore but is now an organized, functional space that my family uses daily – our front hall closet / drop zone.
When you read blog posts, do you ever wonder how well things have held up over time? I do! I originally renovated this closet back in 2012, but it's still working so well, I thought I would share it with you.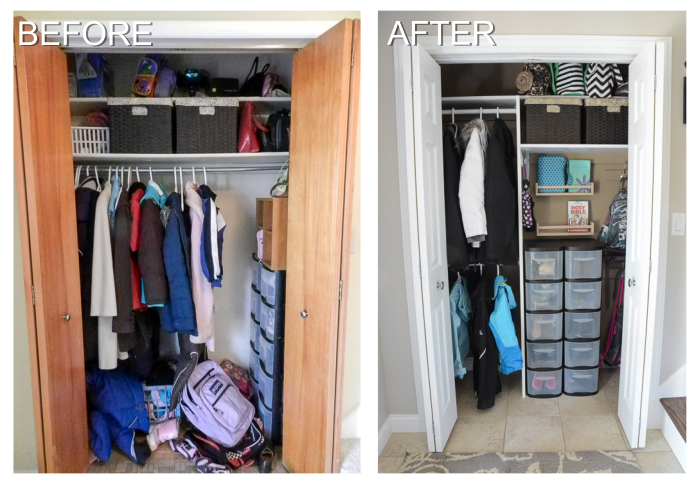 As you can see, it was literally a drop zone for backpacks, coats, and shoes. I had to remind my kids daily to hang things up and put things away. It drove me crazy. The problem was, they couldn't reach things easily, so they didn't bother trying.
I knew it wasn't the best design for an entry closet, but since my hubby and I were busy with a bathroom renovation we were doing ourselves, we didn't have time or a budget to think about renovating the closet.
But one day, I thought of a simple and cheap fix. I decided to purchase an 18″ wide shelf from a home improvement store and install it vertically in the closet. We cut one of the top shelves, supported it with simple brackets, and hung two coat hanging rods.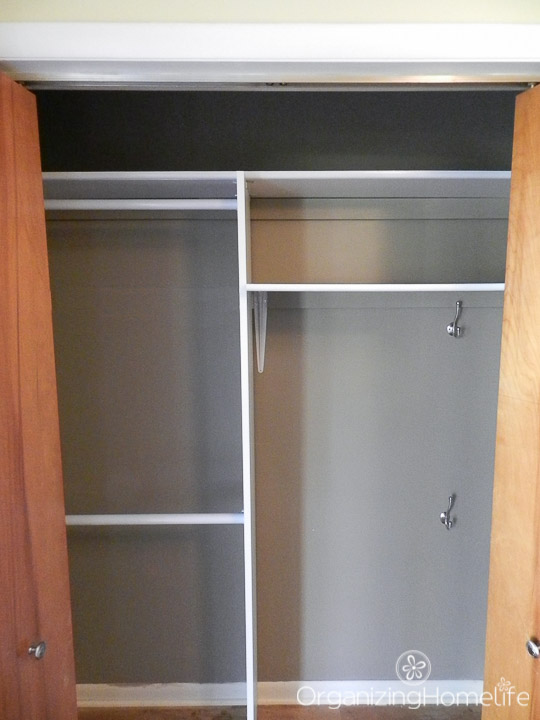 By doing this, we were actually able to gain hanging space AND have a rod low enough that the kids could easily reach to hang their coats.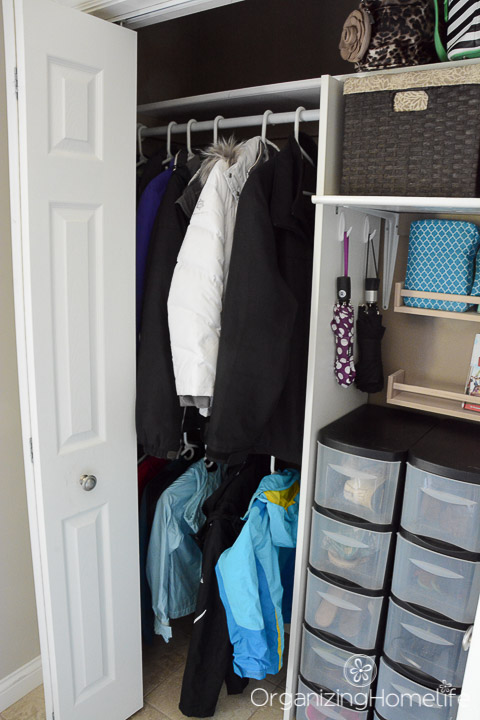 We cut the lower top shelf to have a place to store baskets for our hats, gloves, scarves, etc.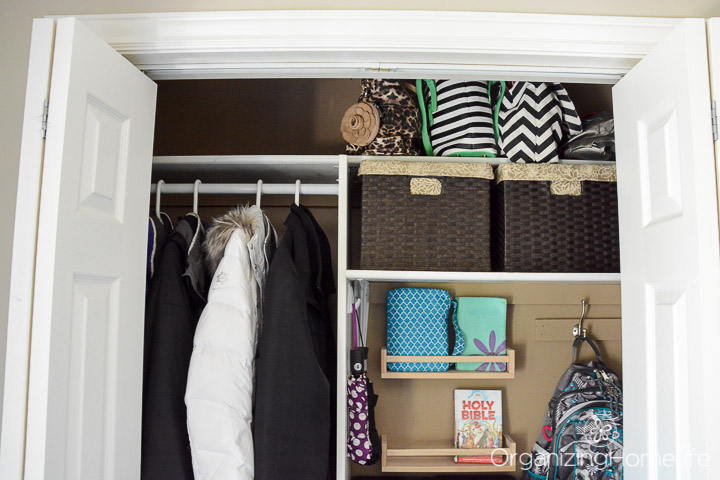 How do you and/or your family use this space day to day?
We literally use this closet every single day. I found the shoe storage bins at a garage sale and I had no idea at the time how much we would use them. We don't wear shoes in the house, so it's essential to have a place to store them. Each family member has two drawers (each holds multiple pairs) so  it's as simple as can be to put shoes away.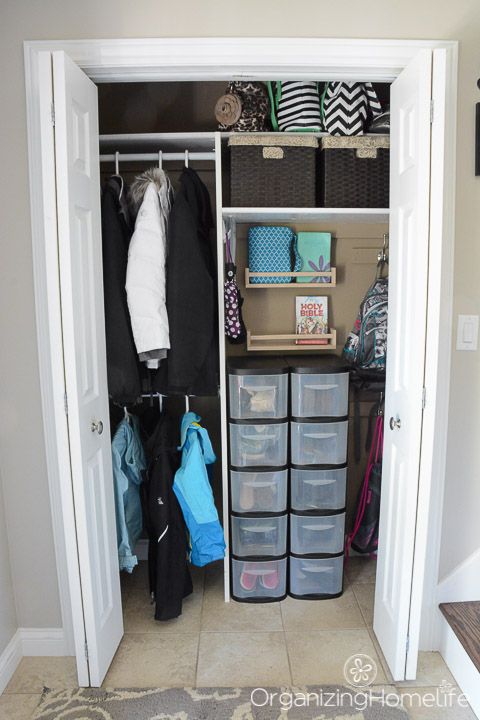 What are some of the systems you've implemented to help the space stay organized?
Aside from having a place to store our shoes, we also installed hooks to establish a "place" for each kid to hang their backpack, sports bag, and lunch bag.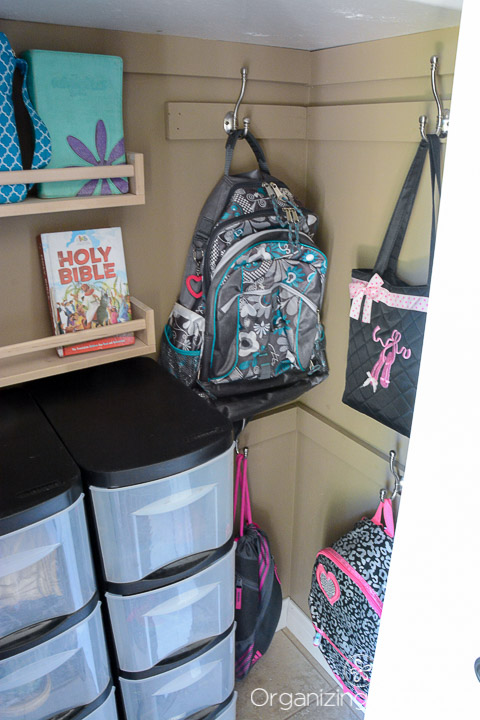 Since we are involved with many events at church in which the kids are asked to bring their Bibles, we keep them on Ikea spice racks in the closet. They were another great solution.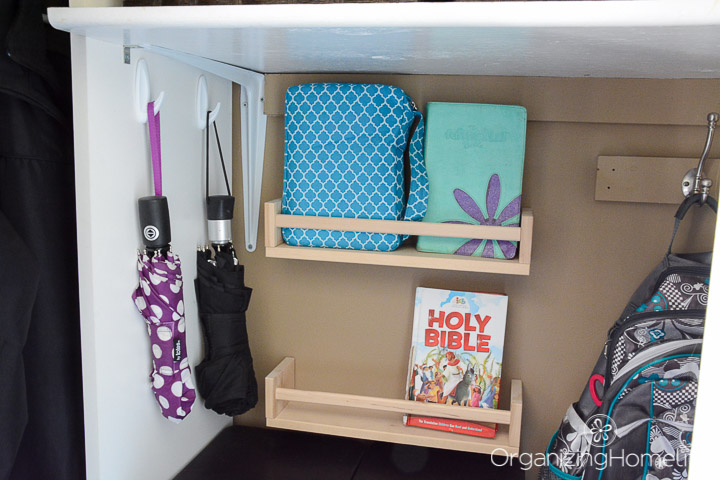 I am one of those people who lives by putting command hooks everywhere. They are so simple to use and solve everyday problems. I simply stuck a few on the side board, and we now have a designated, easy to reach place for umbrellas.
What did you do to make sure this space was both functional and beautiful at the same time?
I'm not sure how beautiful this closet is, but it works so well for our needs. I have to admit I'm not really in love with the wall color anymore, but it definitely works well. When I first painted it back in 2012, I decided against painting the walls white since I knew how much use this closet would get. When we painted our foyer a "greige" color, I thought about painting the inside of the closet to match. But, this color hides every scuff, so I decided to keep it.
What is it about this organized space that makes it your favorite?
I *love* that the kids know where their things belong and it takes no time at all to keep it looking nice. Do they always put things away? No. But it's a cinch to straighten up and since places have been designated for their things, more times than not they're put away.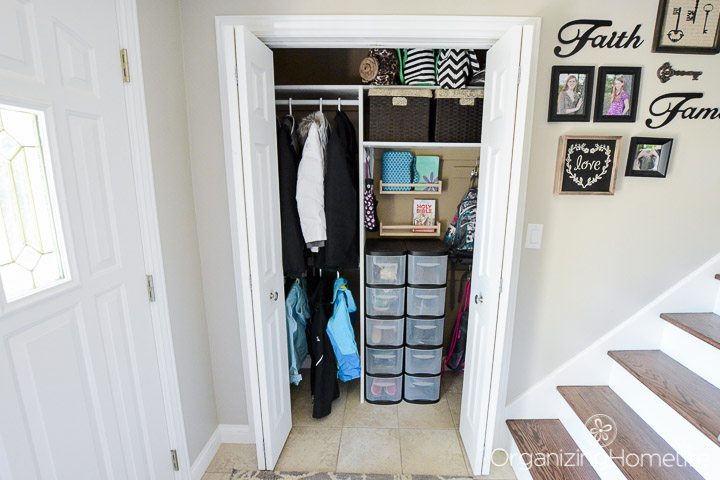 My other favorite thing about it is how useful it is when we entertain. It's culturally normal where we live to take shoes off when you enter someone's home, so having places for my guests to put their shoes always brings about nice compliments. When we have a party, I simply take the family's shoes and coats upstairs and I have plenty of space for guests' belongings. So it's not only functional for everyday use, but it even works well for special occasions.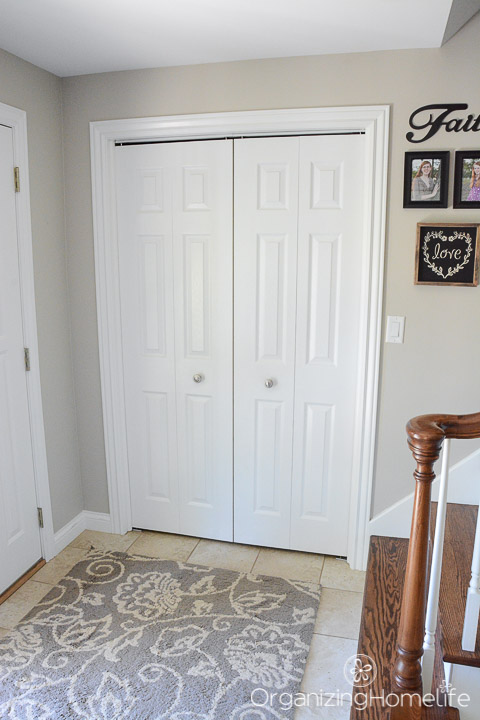 I hope you enjoyed seeing our organized entry closet. I wish you all a wonderful, beautiful, and relaxing summer!
---
Thank you so much for sharing your space with us, Ginny! I'm so impressed with everything she fit into this space, and my wheels are turning with ways to incorporate her ideas into our own spaces! I hope you gained some great tips and tricks as well.
If you're looking for more organizing inspiration, you can check out the rest of the series here:
A Beautiful, Organized Kitchen by Abby at Just a Girl and Her Blog
A Neat and Tidy Entry Closet by Ginny at Organizing Homelife (You're here!)
A Fun, Organized Garage by Becky at Organizing Made Fun
A Beautifully Organized Living Room by Lauren at Bless'er House
An Inspiring and Organized Home Office by Amy at 11 Magnolia Lane
An Incredibly Organized Garage by Samantha at Simply Organized
A Playful and Organized Boy Room by Angela at Blue i Style
A Perfectly Organized Mudroom by Erin at Sunny Side Up
A Creative and Organized Home Office + Craft Room by Megan at The Homes I Have Made
Have a wonderful week!