I am always on the look out for systems in our home that are not working…you know, like that cabinet you dread opening because stuff always topples out on you or that appliance you never use because it's too hard to access. Our house has its fair share of systems that could use improvement, but one I was eager to tackle was Connor's craft supplies.
He has gotten into drawing more and more lately–an activity I definitely want to encourage–but he wasn't taking full advantage of his new-found interest because, well, it was a pain to get to his materials. Con's craft supplies were formerly housed in a bin in his closet, and though I attempted to reorganize it several times, it always ended up looking like this:
Not only was it hard to find what he needed because the bin was such a jumbled mess, but we also had to keep the bin facing the back of the closet so baby C wouldn't cover the whole house in markers. Talk about inconvenient!
I wanted to give Con a space where he could easily "create" any time he wanted to, so I started looking around online for kids' craft organization ideas and was inspired by this photo from Modern Parents Messy Kids:
I liked that the crayons, markers, and paper were always within reach, yet still organized, and I LOVED that there was an area for the kids to display their artwork. Keeping these ideas in mind, we made some adjustments to fit our own space and came up with…
Because we had many of the pieces, this makeover only cost us about $20, and I think it was well worth it!
Even more than I love the bright colors, straight lines, and open accessibility, I loved Connor's reaction when he first saw it. He stood there for ten minutes checking out each individual piece and was just in awe. He pointed to all of the different colors of paper and his coloring books, repeatedly removed the markers and crayons and put them back in their spots, and took down each of the magnetic containers to see what was inside before carefully returning them to their original homes. It was such a joy to watch him get so excited about his space.
We hung a few clipboards so he could showcase his work, and when I went into his room this morning, I already had a couple of masterpieces waiting for me:
A future Picasso, maybe? 😉
The IKEA magazine rack that I talked about on Monday was the perfect choice to keep the construction paper and coloring books corralled and easily available at the same time:
And, believe it or not, I hadn't even remembered that my inspiration photo used these magnetic containers! We had some sitting around from another project, and they were the a great addition to hold stamps, beading supplies, and Caleb's short, fat crayons.
I am thrilled that we were able to take a crazy mess of rarely used craft supplies and organize them in such a fun and functional way so that the C's can make the best use out of them.
Here are the items we used for this transformation:
Table- old, Christmas present
Clipboards- old, dressed up with printed duct tape from Target Dollar Spot
Rail and Cups- IKEA Bygel series
Magazine Rack- IKEA Kvissle, dressed up with printed duct tape from Target Dollar Spot
Magnetic Containers- old, originally from Michael's
Magnetic Strip- old, amazon.com
What's your favorite tip for keeping kids' craft supplies organized?
Featured On: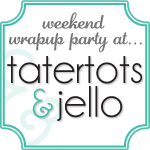 Linked Up Here:
I Heart Nap Time- Sundae Scoop Link Party, House of Hepworths- Hookin Up with HoH, The Shabby Creek Cottage- Transformation Thursday, The Real Thing with the Coake Family- Real Family Fun, 733 Blog- What are little boys made of?, Sharing with Domestic Superhero Thursday, Liz Marie Blog- Inspire Me Please Linky Party, Happy and Blessed Home- Family Fun Friday, Practically Functional- The Fun in Functional Link Party, Tatertots and Jello- Weekend Wrap Up, It's Overflowing- Overflowing with Creativity, Or So She Says…- Your Great Idea Link Party, Serenity You- Serenity Saturday, Homemaker On a Dime- Creative Bloggers' Party & Hop, View Along the Way- Monday Funday
Get Instant Access to my Library of FREE Organizational Printables!
Sign up to receive FREE organizing printables, available exclusively to subscribers!