My Favorite Space: A Multifunctional Office + Guest Room by Delineate Your Dwelling
Since our house is on the small side, I'm always looking for ways to meet multiple needs with one space. It isn't always an easy task, but when done correctly, it is totally possible to create a room that is both multifunctional and beautiful! To continue our My Favorite Space series, I am so delighted to have Amy from Delineate Your Dwelling here today to demonstrate a perfect example of this with her oh-so-gorgeous office + guest room!
---
Hi Just a Girl and Her Blog readers! It's Amy from Delineate Your Dwelling, a creative DIY blog. I'm excited to share one of my favorite spaces during Abby's "My Favorite Space" series this summer, my Office + Guest Room! Not only is it one of my favorite spaces but it's chock-full of little creative DIYs. What better way to be inspired, than to be surrounded with things I love while busily working away on my blog!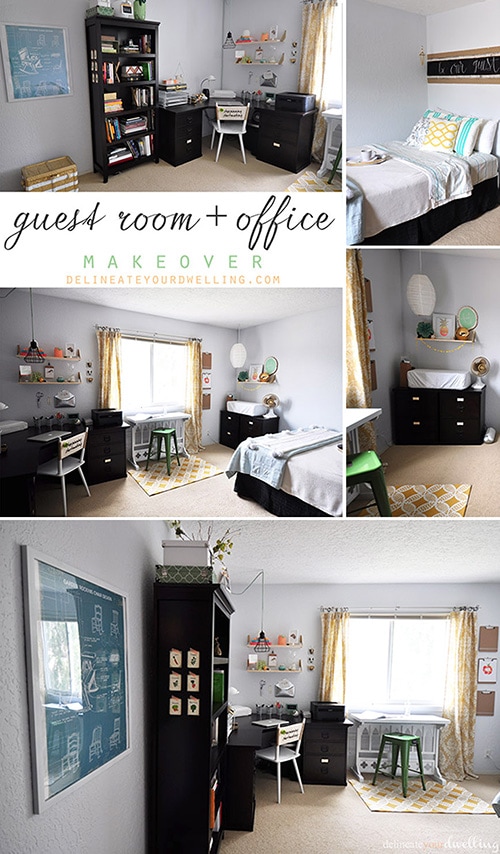 What is the main function of the space?
You could probably guess the main function of our office + guest room is… our office and guest room. For over seven years it was also a dumping ground for all the odds and ends of our home. We were given an old end table and off it went to the guest room. We rearranged furniture in our living room and off all the extras went to the guest room. Before I knew it, this dual purpose room was crowded, cramped and an uninviting space. Enough was enough. I finally took on the task of spending as little as possible and reworking the entire room to actually work for us!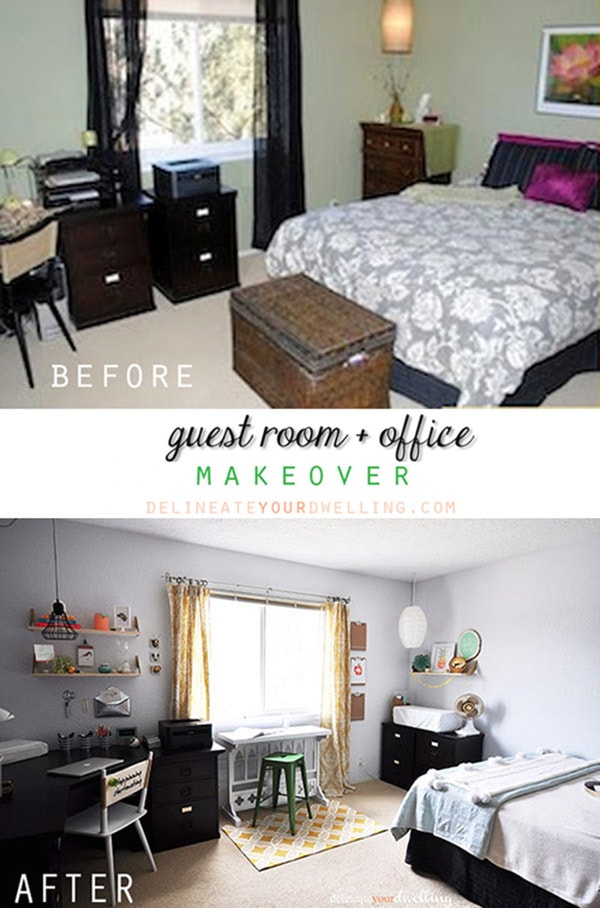 Can you tell us about some of the fun DIY elements in the space?
The entire room is full of small DIY projects which is partly why I love it so much. I created a Newspaper Chalkboard Headboard for the bed using craft paper, newspaper and chalkboard paint. I set it just above the head line when someone is sitting in bed. It gives the illusion of a headboard and frames the bed without the worry of someone erasing my fun chalk message.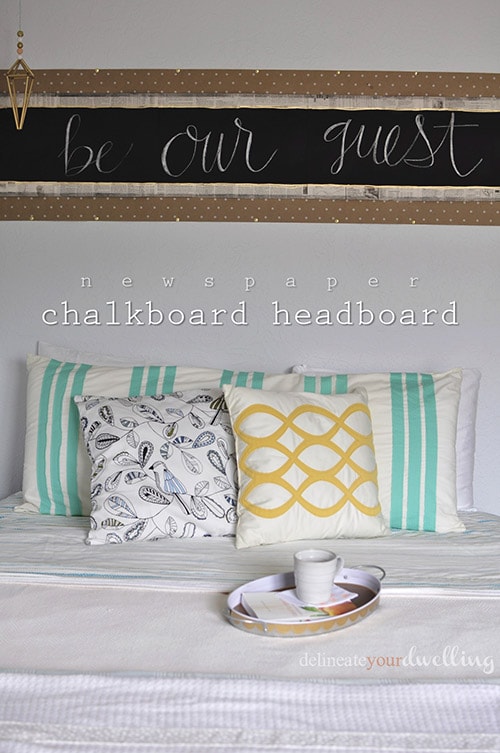 Another project that I love in this space was a
Geometric Pendant Lamp
. I love that it didn't cost me a single penny to make and it adds such interest to the room!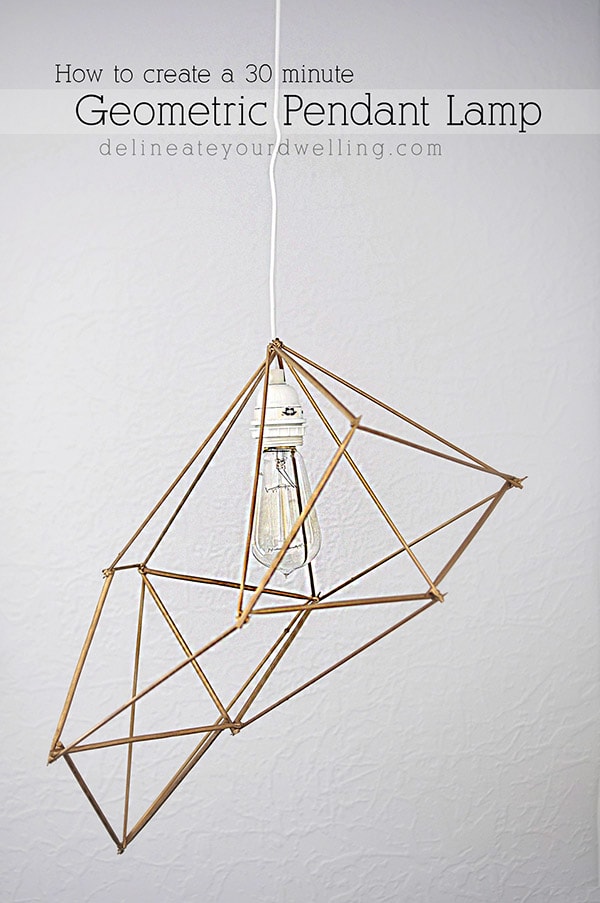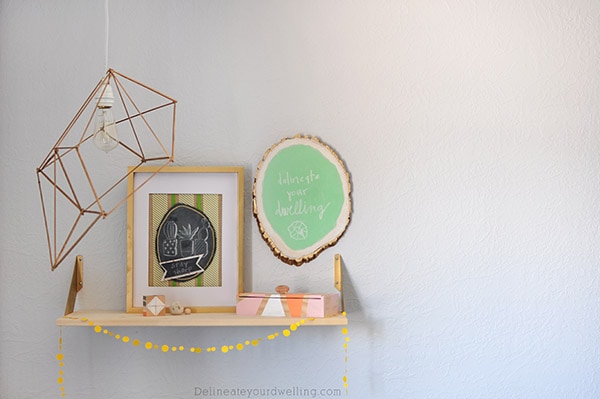 How would you describe your design style, and which elements in the room help bring that to life?
I would say my design style is best described as a mix of natural meets soft modern. I like using neutral colors (white or gray walls) and natural materials with pops of soft color mixed in. I
updated Wooden Ikea shelves
with gold spray paint. Each shelf holds small items that inspire creativity and make me happy to look at.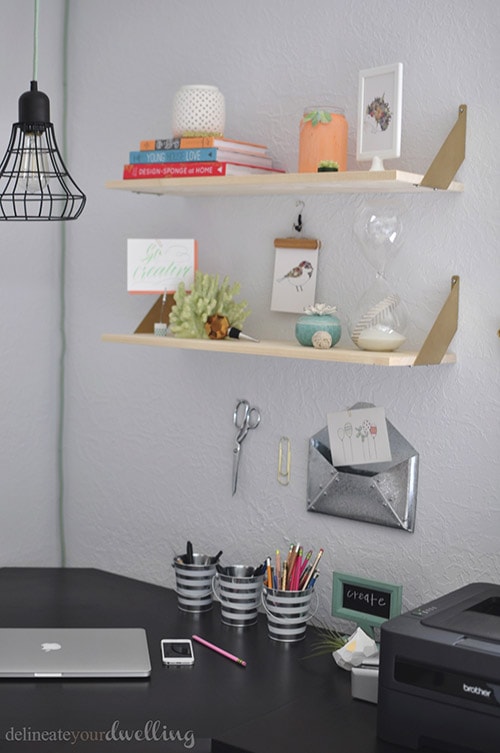 Do you have any funny/happy/sweet/interesting stories about this space?
True to many larger projects in my home, I get really excited about them and get about 80% of the way done then lose steam. It then sits 80% complete for weeks or months. This was so true for this room! It sat cluttered for 7 years so just doing a little rearranging and painting of the walls, seemed good enough. It took a
visit from my high energy mama
, to get a fire lit under me to pull it all together and finally complete it. My mom is a finisher so together we make the perfect team!
What is it about the space that makes it your favorite?
I never ever thought a room with white walls would bring me such joy. I used to think white walls were dull and unexciting. Now, walking into such a light and airy white room, makes me so happy. I've filled every spot I could with personality and creativity so the walls simply have become my display canvas. It's been fun to see how the room changes as I continue to create new projects all the time, too.
Thank you so much Abby for having me here today! If you would like to see more creative ideas like I shared in my Favorite Space be sure to give me a hello over at Delineate Your Dwelling. You can also follow along on Pinterest, Instagram and Facebook!

---
I love this transformation so much! She thought of every detail! Thank you so much for sharing your space with us, Amy, and thank YOU for reading! Have a great day!