My Favorite Space: A Beautiful Two-Toned Kitchen by At Home with the Barkers
Hey, hey, hey! I am so excited to be continuing the My Favorite Space series today with yet another stunning room! My sweet friend Sonya from At Home with the Barkers is here to share her beautiful two-toned kitchen with us, and coincidentally, she and I are actually together right now having a blast at the Haven blogging conference in Atlanta, Georgia! Fun! Ready to tour her space? Here she is!
---
Hey there! I'm Sonya from At Home with The Barkers. I am thrilled Abby invited me over to share my favorite space with you all today! This was actually not as easy of a choice as I thought it might be but in the end I chose our kitchen with its fresh makeover. It is after all the heart of the home and where I tend to spend most of my time.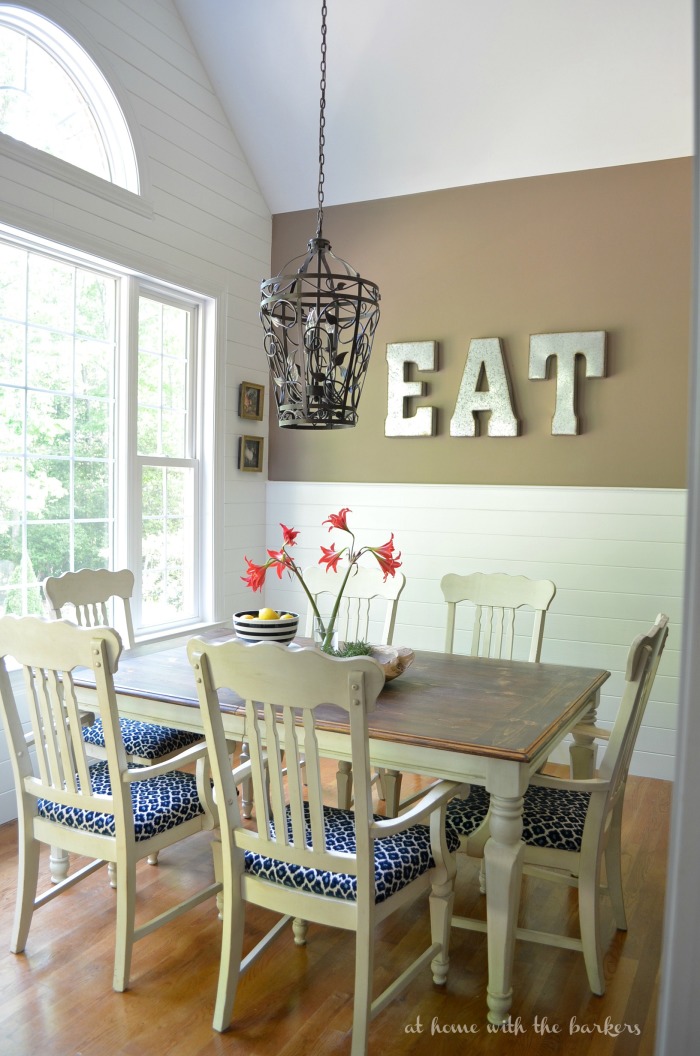 What is the main function of this space?
First, the kitchen is obvious for cooking. I will admit, I don't love to cook. I do however enjoy entertaining, which must include food so I am a big fan of Sandra Lee and her semi homemade idea. Secondly, my husband and I both work from home and we tend to bring our laptops to the kitchen table often. I write 75% of my blog post in my kitchen.
Can you tell us about some of the fun DIY elements in the space?
We completed the one room challenge back in the spring for this room. This was a budget friendly makeover that included freshly painted kitchen cabinets, wood plank walls, new hardware, and recovered kitchen chairs. My husband was a champ with completing the plank wall and the cuts required around the half circle window.
I painted the cabinets almost 8 years ago when we moved in and decided they needed a new look. I wanted to try the two tone effect and I think it turned out great. I did toy with the idea of going back all white but in the end decided to go for it and use black. It is just paint after all. I have a full tutorial on how I painted the cabinets.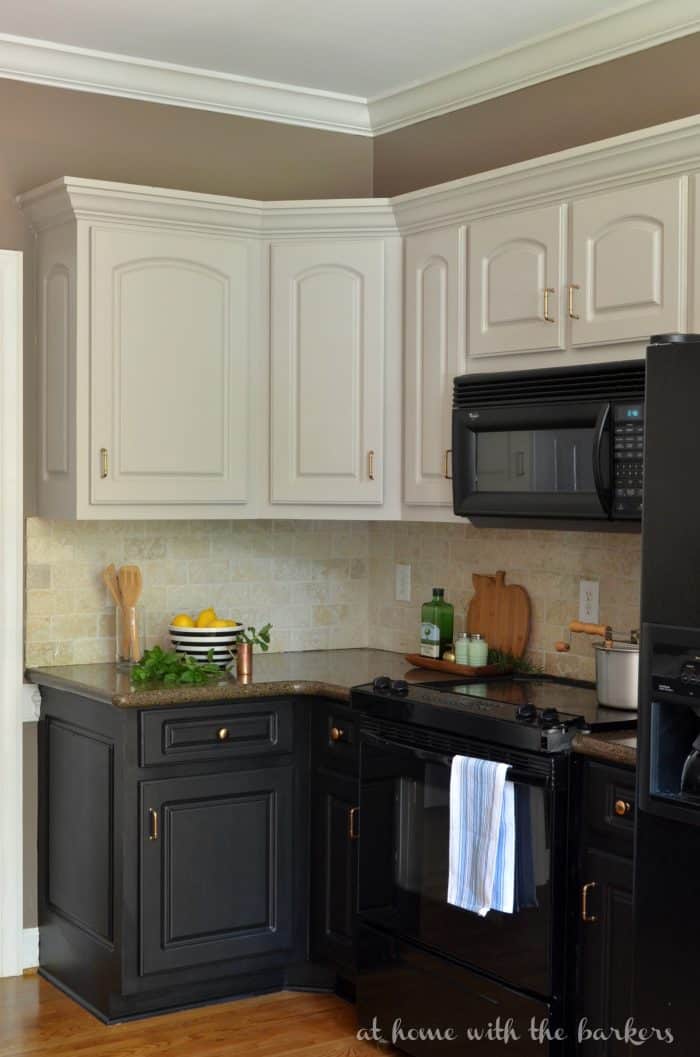 I added new fabric to the kitchen chairs and I love the fun it brings to the space.
We did add a beverage bar that is not actually in the kitchen but I count it as part of the space because of its function. It is the perfect drink station that we built from a closet that was under our stairs. It is located in the small hall between our kitchen and dining room.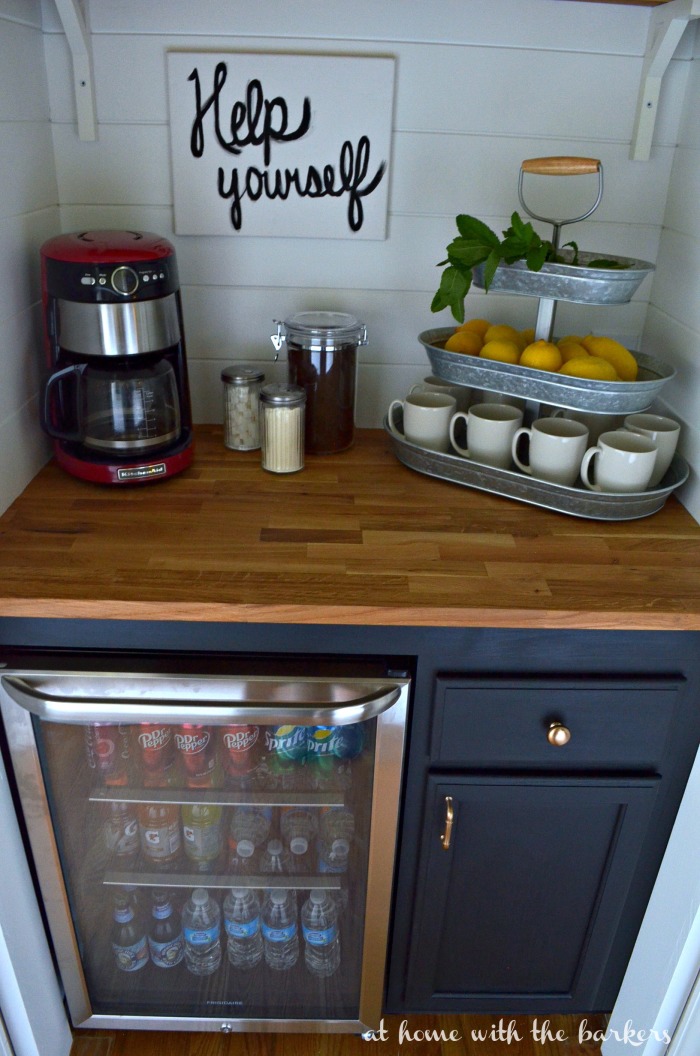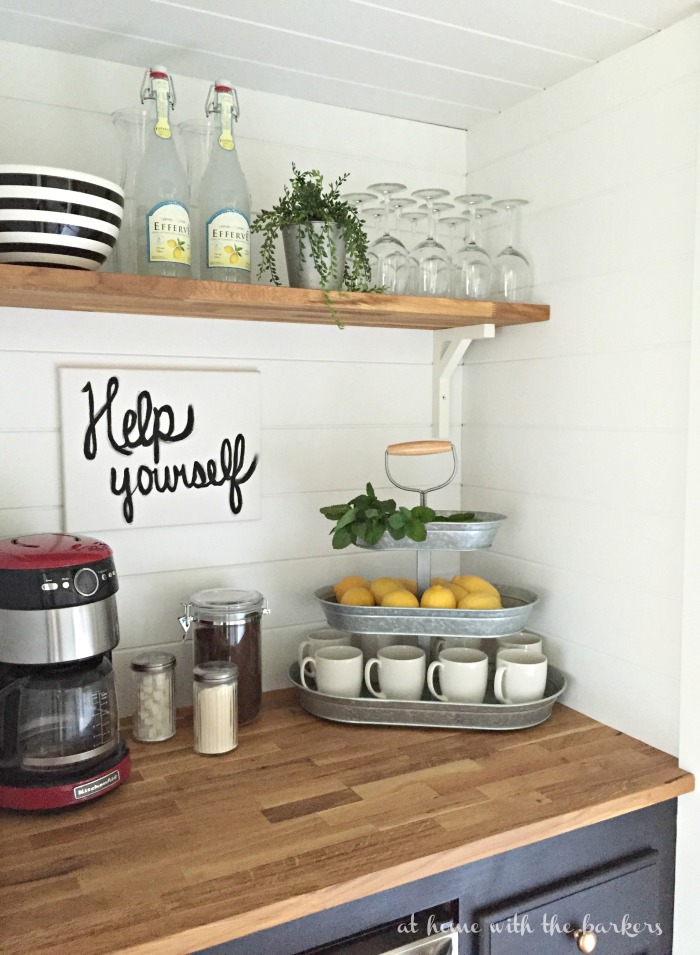 How would you describe your design style, and which elements in the room help bring that to life?
Over the years I have found it very hard to categorize my design style. Mostly because I change my mind often but also because I like lots of different styles. I recently decided to try and put it into words and I came up with urban country. I love the farmhouse, living in the country feeling yet I like fun finishes and color contrast.
This space shows my urban country style with the plank walls yet contrasting two toned cabinets. This rose gold hardware I think is the perfect example of the urban part. If you are on Instagram I would love to have you join me there, where you can see more behind the scenes of my decorating styles and things I love.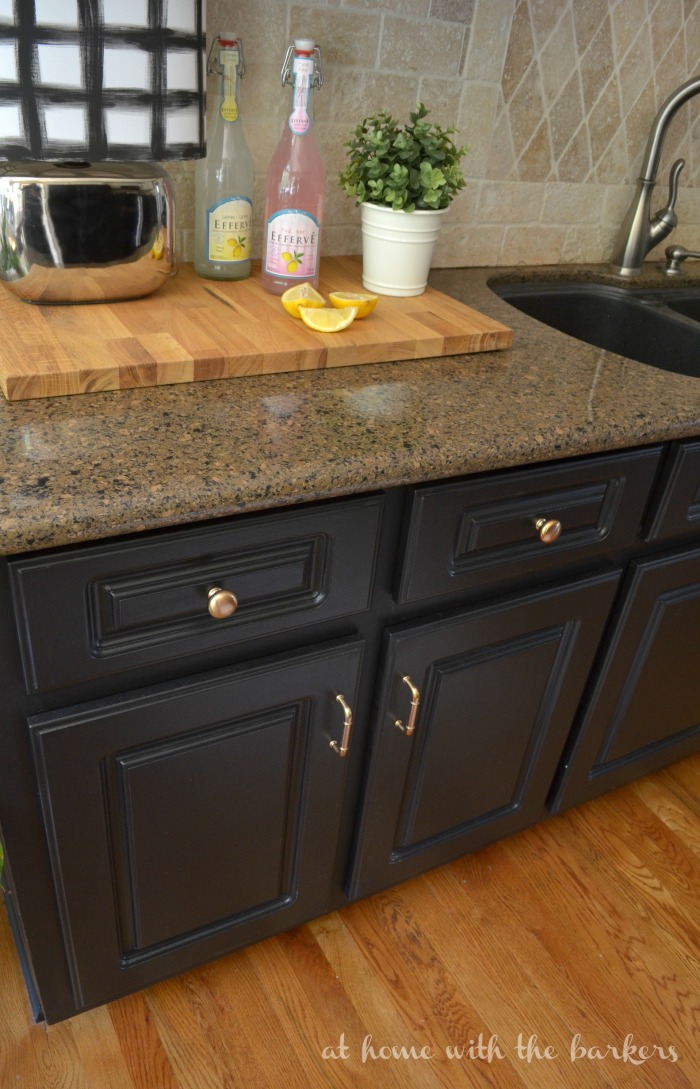 Do you have a funny/happy/sweet/interesting story about this space?
Interestingly, hubby and I would love to completely remodel this space. You know, Joanna Gaines style with a torn out wall and big island. So be sure you follow along on my blog, you never know when a room makeover just may become a room remodel!
What is it about the space that makes it your favorite?
The BIG window that looks out over the back yard is my favorite part of this room. It offers great light and my squirrel friends run across the ledge all the time to look in.
Thanks so much Abby for allowing me to share my favorite space here today in your little corner of the blog world! You my friend are an inspiration.
I would love to stay connected!
FACEBOOK / PINTEREST / INSTAGRAM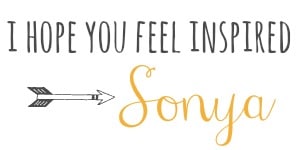 ---
Who else is ready to bust out some paint and make some two tone cabinets?! LOVE!! Thank you so much for sharing your space with us, Sonya, and thank YOU for reading! Enjoy your day!