How to Organize a Simple School Drop Off Zone
One of the projects that I was so excited to tackle in our new house was organizing and decorating our mudroom. Mudrooms can add so much functionality to a home, and they're beautiful too!
I was so delighted when my friend Brittany from Our Home Made Easy offered to share her cute and organized mudroom with us today! It is the perfect school drop off zone for her kids' items, and she's done a great job with really maximizing her space. I'll let her take it from here…
---
Hi there! It's Brittany from over at Our Home Made Easy. I am a blogger friend of Abby's and I am so excited to be over here today. At Our Home Made Easy I write about practical home solutions to save you time, which includes easy DIY projects, home organization, and simple weeknight recipes!
Like Abby, I am a busy mom with two young kids and a love for organization and being crafty at home. In the next two weeks, our school year begins (after Labor Day in Michigan) and I wanted to share how we organize our school drop off zone!
How to Organize a Simple School Drop Off Zone
Over the past few years we've learned that taking the time to plan for a spot for all the items that arrive home each night saves us so much time in the mornings. I've found that taking a few extra moments to put things away at night saves my husband & me major headache in the morning– especially if our little ones aren't cooperating 🙂
A Place to Hang Book Bags & Jackets
The most important area for our school drop-off zone is the spot for the kids' book bags and coats. Our mudroom is narrow, so when we all arrive home, things need to be moved into place, or you can't walk all that well from the garage into the house. We built the board & batten walls to add some character and installed hooks to use up as much space along the walls as possible.
Not only does it make me happy to walk into each day, it gives the kids a designated spot to set their items. Each of my little ones bring home a book bag, lunch box, and coat each afternoon. I have a coat hook for each of them and space to place their bags.
A Seat to Unpack & Put-away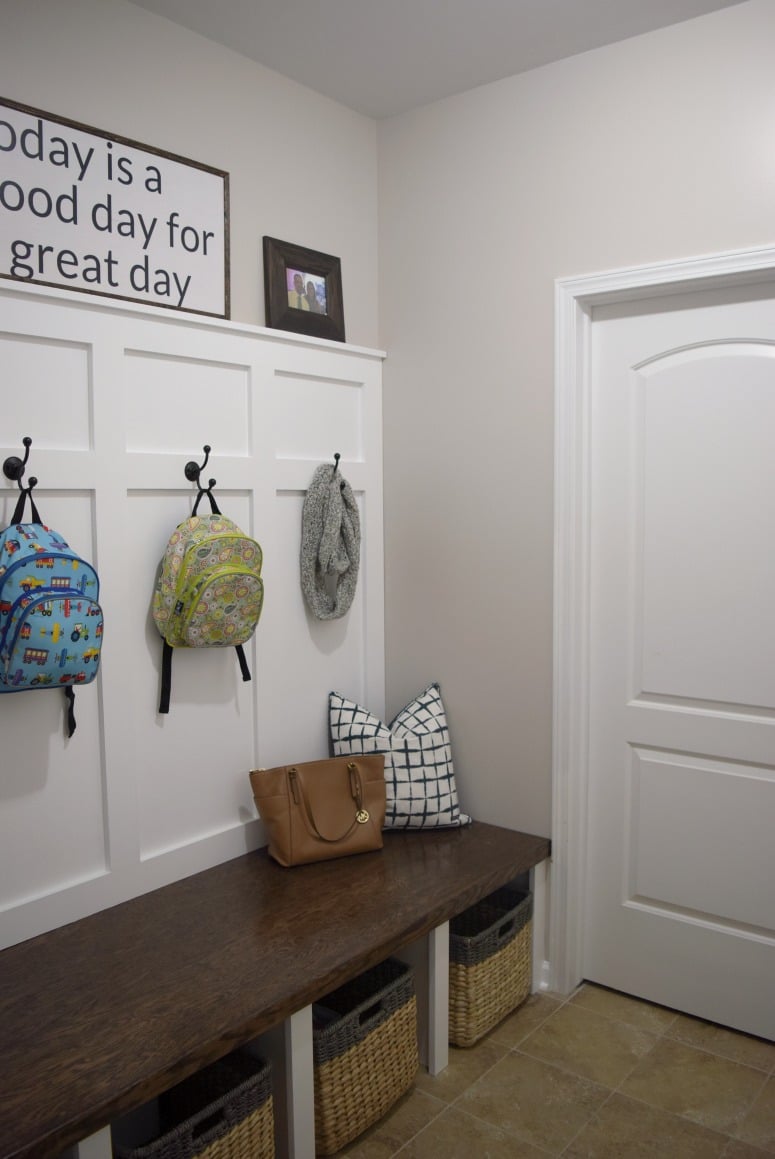 Since we knew we wanted to use the back wall for hanging book bags and coats, we wanted to use the lower space for a bench. My husband, Jordan, built this bench and it fit in-between the mudroom walls. It's perfect for the kids to set their bags on each afternoon. They like climbing up and setting their bags & coats on the hooks since the bench gives them some extra independence.
I love that the bench is built-in & beautiful– and keeps everyone & their gear contained in one area! There is plenty of space for the kids to drop off their belongings, unpack their bags to show us their treasures, and still feel like we are keeping some order in those busy few minutes.
Jordan is the DIY muscle over in our home. I'm a Pinterest loving dreamer and he is the creator of all wood designs around the house. His only project request is that we make it as easy as possible. Minimal cuts & short weekend time frames drive our adventures in DIY home improvement. You can see some of our DIYs here at Our Home Made Easy.
A Mailbox For Mom & Dad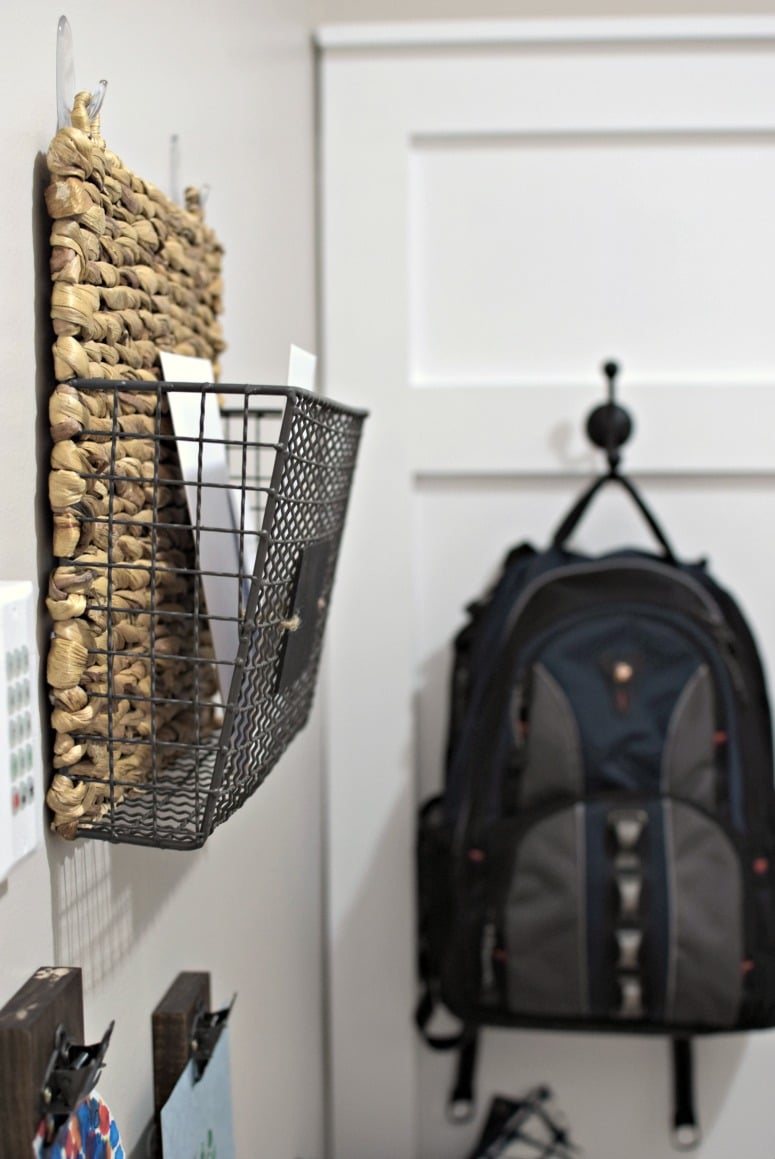 A few times a week, Aubrey & Owen bring home paperwork that we need to sign, school fundraising requests, or field trip monies that need to be sent back into their classrooms. This little basket serves as the inbox and outbox. As we unpack their book bags each day, any items that need our attention go into the basket. Anything that needs to leave the next day goes back into the box. Ultimately, our goal is to have the box empty when we walk out the door each day.
I also use the mailbox as a place to hold my car keys. Someday I'd love to have a custom built organizer, but right now we use this spot to hold our keys so that we aren't looking for them later on in the evening. We walk in and toss them into the basket– then we tackle the kids and their bags. 🙂
A Place to Hang Homemade Art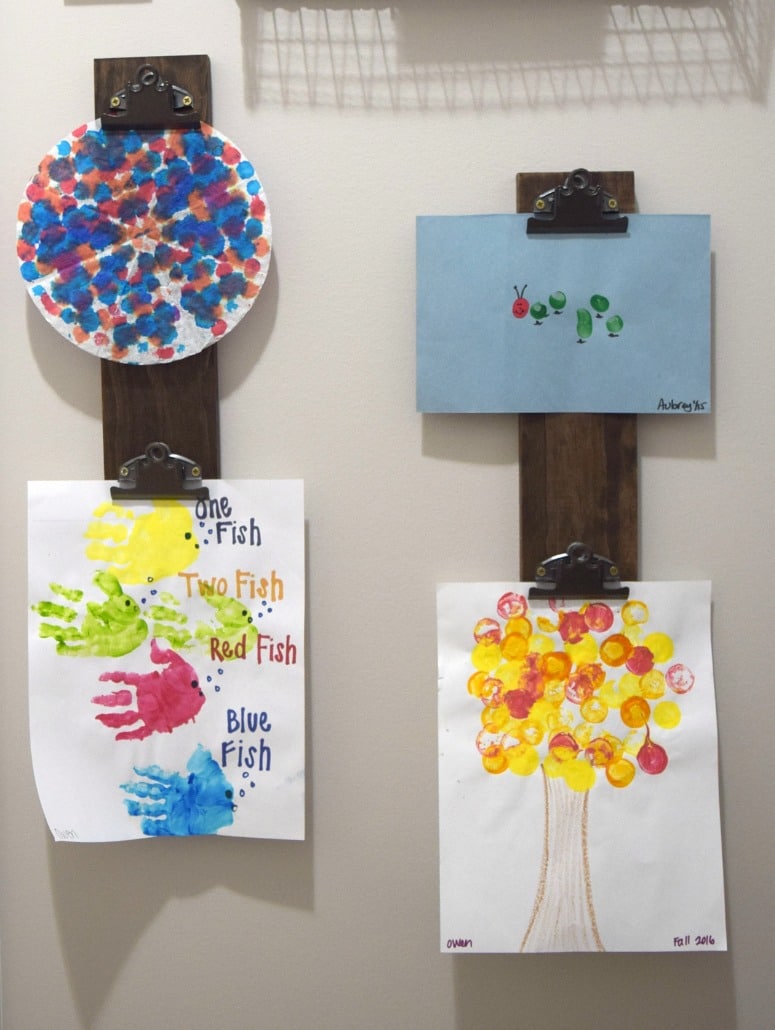 Underneath the mailbox, I made these little artwork holders. They are perfect for holding the latest art projects for the kids! Since they are lower in height, the kids can change out their artwork as often as they'd like. We never know what we'll find hanging up on any given afternoon. 🙂
Mudroom Shoe Storage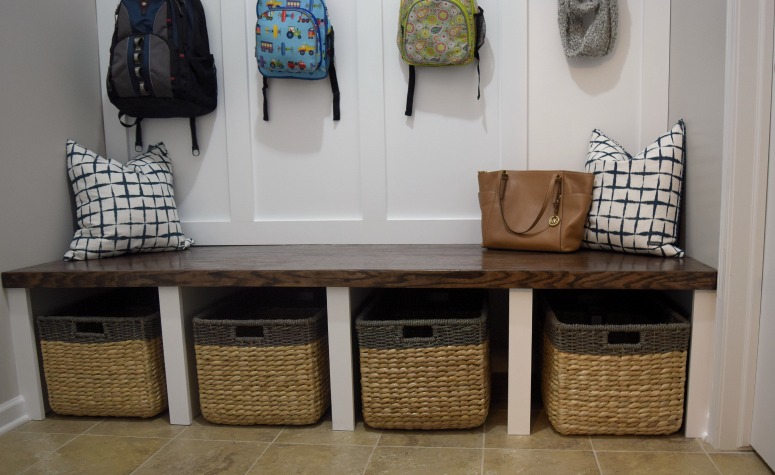 Our mudroom isn't very large, so I needed to be thoughtful on how where we'd place shoes– without them piling up! Each afternoon, the kids toss their shoes in their own basket. This helps us all know where to look in the mornings when we are running behind! Before we had a basket to corral the shoes, they would pile on top one another and inevitably one shoe was always missing.
I love how I don't have to kick a shoe out of the way when I'm arriving home with my own things and the baskets are super sturdy for handling. Durability is a priority. It doesn't hurt that they are pretty to look at, either. 🙂
Storing Cold Weather Items
Inside each basket, I have shoes and a little canvas storage box for cold weather items. They are from IKEA and are usually used in their dressers. I am a bit of an IKEA hoarder. I like to find the most useful items and scoop up as many of them as possible. These little zipper storage totes weren't safe from my organization loving heart.
I've found so many uses for them around our house. Since we live in Michigan, it's not uncommon to need a thick hat in late September and not again until late October. To avoid a last minute grab (and not finding a matching set), I keep them stored together in each kid's basket.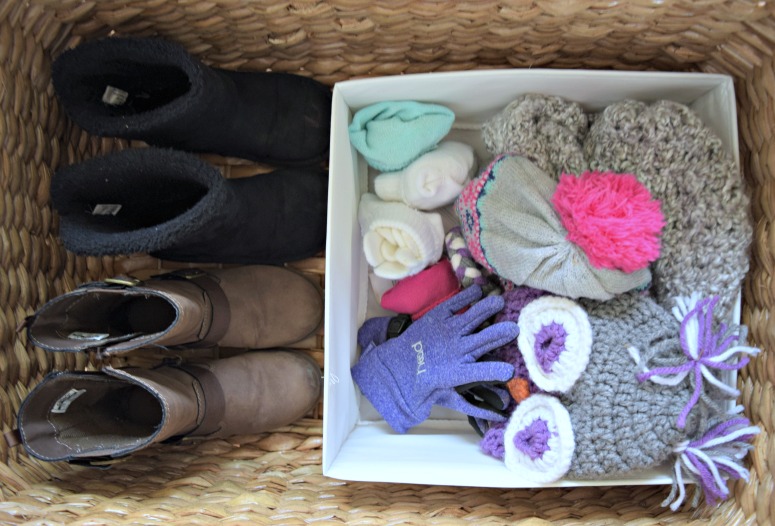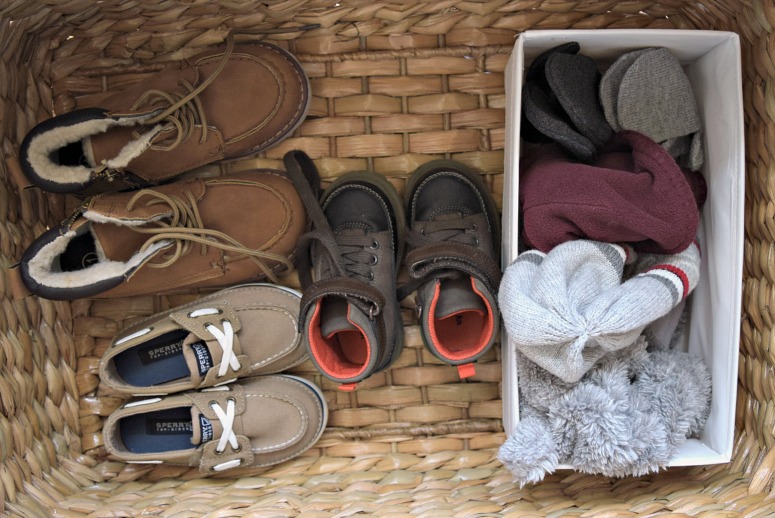 I've found that the baskets are helpful for limiting only a few pairs of shoes downstairs. Any special shoes, especially for our daughter when she wants to dress up, are stored in her room. Less options on a normal morning make for an easier out-the-door situation!
And That Is All You Need for a School Drop Off Zone!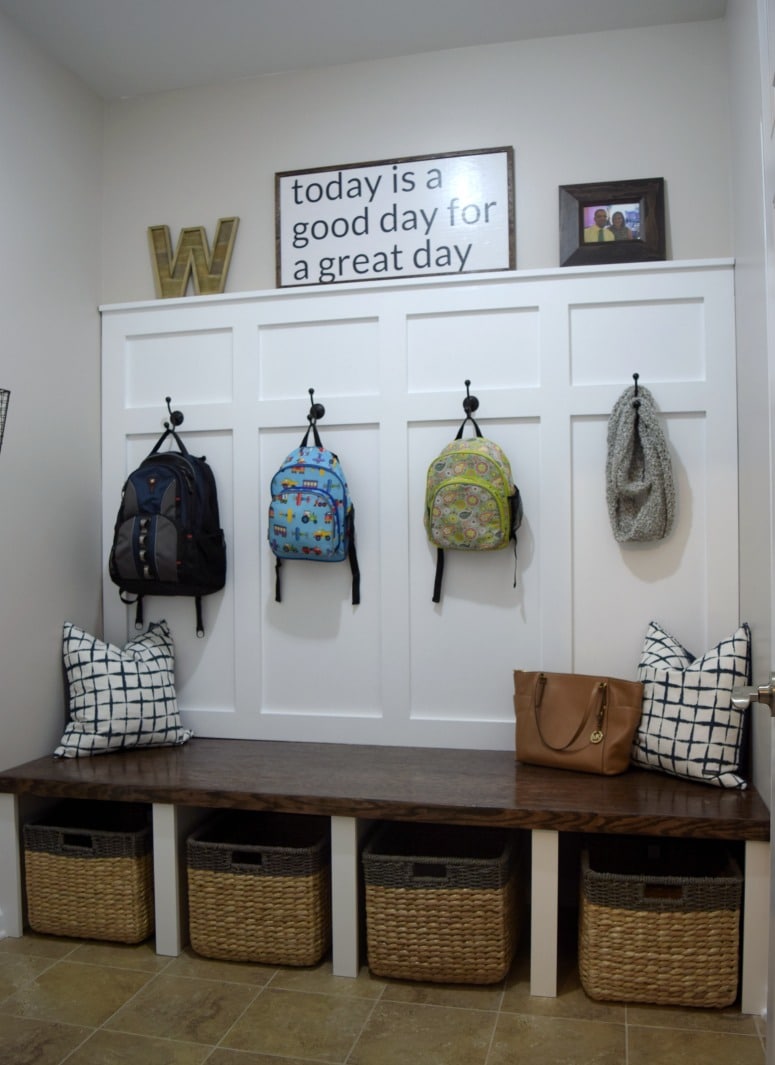 A super functional school drop-off zone doesn't need to be complicated. Dedicating a small space for each item will help you create an area that works perfectly for your family. Thank you for joining me today and good luck as the new school year begins! I think you'll enjoy seeing more easy projects and I'd love for you to take a look at my blog or join me for updates on Instagram.
Thank you again, Abby for allowing me to share our home with your readers! I appreciate you sharing your space and I hope you enjoyed your time away!
---
Isn't it so cute?! Thank you so much for sharing your brilliant ideas with us, Brittany, and thank YOU for reading!
If you're looking for even more mudroom inspiration, you can see how we organized our own mudroom in these posts:
(Psssstttt… Working with a small space? See how we added a "mudroom" to our very tiny townhouse here!)
I hope you're having a wonderful week!